London 2012: Damon Albarn says Games are too corporate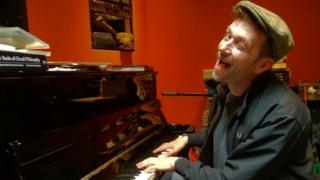 Blur frontman Damon Albarn has described the London Olympic Games as "too corporate".
"The corporate side I find a bit depressing," he told the BBC. "There's too much of it [sponsorship]... A lot of people see it differently."
Blur will be performing at a concert in Hyde Park to coincide with the Olympic Games closing ceremony on 12 August.
But when asked if he was "signed up to the Olympics" he said Blur would headline the gig "for London".
Albarn made the comment during an interview with BBC Radio 4's Front Row programme.
"We're putting on another celebration for the official closure of the Olympic Games," he said.
"But we're putting it on for London and people who hopefully want to sing their hearts out in a park.
"I'm signed up to the idea of regeneration in London and putting on a good account of ourselves, definitely.
"It's celebrating our extraordinary multi-cultural potential - as a torch for the world in that sense. So yeah, I'm there with that."
Albarn has also been involved in Festival 2012 projects as part of London 2012.
He has composed and performed the music for folk-opera Dr Dee , which will get its London debut on 25 June as part of the festival.
And he is also involved in Africa Express - a UK tour of African and Western musicians culminating in a London finale on 8 September.
The singer suggested that not only would the Hyde Park gig signal the end of the Games but could be Blur's last performance together .
"I'm seeing it as a punctuation point," he laughed. "That can be whatever you choose to make it."
He also spoke of his career highlights, including previous Blur concerts at Hyde Park and Glastonbury in 2009.
"I'm not foolish enough to think we can ever recreate that magic," he said.
"That really was a career pinnacle."
Despite that, he said he still had ambitions to make more music.
"This week we're mucking around with these Russian synthesizers in a very loose mind of doing some kind of record under my name.
"I suppose you could call it a solo record, but I don't like that word. It sounds very lonely - solo. I don't really want to be solo in my life.
"But yeah, I'm making another record."
Blur performed sell-out concerts in Hyde Park in 2009.
This year they will be joined on stage by support acts New Order and The Specials, and giant screens will show highlights of the closing ceremony from the Olympic Park.
Hear the full interview on BBC Radio 4's Front Row programme from 19:15 BST on Monday 7 May.