Ska pioneer Lloyd Brevett dies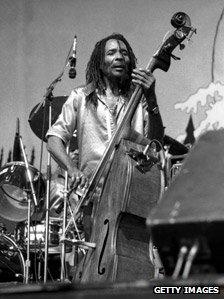 Jamaican double bassist Lloyd Brevett, whose band The Skatalites pioneered ska music and paved the way for reggae, has died at the age of 80.
The Skatalites formed in 1964 and combined jazz, R&B and mento to create ska and take a Jamaican sound around the world for the first time.
Their songs included The Guns of Navarone and they backed acts including The Wailers and Prince Buster.
Brevett suffered a stroke in March, two weeks after his son was murdered.
Thirty two-year-old Okine was shot outside the family's home in Kingston hours after he had accepted a Jamaican music industry award on his father's behalf.
Spokeswoman and friend Maxine Stowe told the AP news agency: "He took his son's death as stoically as he could, but you knew it was devastating for him. He deteriorated rapidly after that."
Former Jamaican Prime Minister and one-time Skatalites tour manager PJ Patterson said it was "Brevett who quietly provided the mesmerising backbone to the Skatalites' sound".
"To say that Brevett was a creator of both ska and dub is not to use hyperbole," he said in a statement.
Bunny Wailer, a member of the original Wailers with Bob Marley and Peter Tosh, told AP: "He was there from the beginning. All my bass lines from all my recordings have been attributed to bass lines from Lloyd Brevett."
The Skatalites were only together for 18 months in the 1960s. On New Year's Eve 1964, trombonist Don Drummond stabbed and killed his girlfriend and vocalist Marguerita.
The other band members disbanded in July 1965, with Brevett and other members forming the Soul Brothers, later becoming the Soul Vendors.
In 1975, most of the Skatalites reunited to record Brevett's solo album African Roots. They continued to reconvene periodically before reforming in the 1980s.
In 1996, their album Hi-Bop Ska: The 30th Anniversary Recording, earned a Grammy nomination, with a second nomination coming the following year for Greetings From Skamania.
Brevett left the group in the mid-2000s after a dispute with his bandmates. Saxophonist Lester Sterling is now the only surviving member of the original line-up.