Sacha Baron Cohen 'not banned' by BBC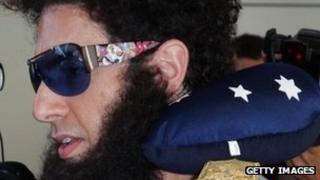 Rumours that the BBC has banned comedian Sacha Baron Cohen from its talk shows have been widely exaggerated, the corporation claims.
The actor, who is promoting new film The Dictator, had asked to appear in character on a number of BBC shows - including The Graham Norton Show.
But the BBC said they would prefer to interview Sacha "as himself".
Speaking in character, as fictional dictator Admiral General Aladeen, Cohen called the rejection "an outrage".
A statement, released on behalf of the General, said: "While I am a huge admirer of state-sponsored censorship, the BBC banning me from their meagre channels is an outrage.
"Why are they victimising little old me?"
'Spontaneous banter'
However, the BBC shrugged off Cohen's tongue-in-cheek complaint.
"There is no ban," said a BBC spokesman, "but our chat shows thrive on the spontaneous banter between guests and the presenter, something you just don't get when people come on as characters.
"We'd love to have Sacha on as himself."
The Borat star, 40, is well known for elaborate publicity stunts surrounding his films, including scripted press conferences and interviews.
Earlier this year, he was escorted off the red carpet at the Oscars, after he turned up in costume as the middle eastern leader and tipped an urn of "Kim Jong-Il's ashes" over host Ryan Seacrest.
Prior to the ceremony, an Academy spokesman said Cohen was welcome to attend the event, but it was not "appropriate" to use the Oscars to plug his new film.
The Dictator - a satirical comedy, about an autocrat "who risked his life to ensure that democracy would never come to the country he so lovingly oppressed" - is released on 16 May.