Oscar-winning silent film returns to cinemas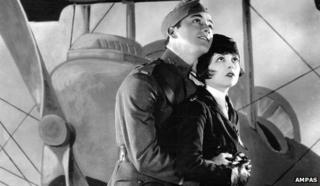 The first film to take home the best picture Oscar at the Academy Awards has been re-released on the big screen.
Wings, the only silent film to have won best picture before The Artist's triumph this February, has been fully restored ahead of a limited release.
The 1927 black and white war film, starring Clara Bow, was given a PG-13 rating.
Directed by William A Wellman, it won two Oscars at the 1929 ceremony, including best film and best effects.
Starring Bow, Charles "Buddy" Rogers and Richard Arlen, Wings tells the story of two young men who become World War I fighter pilots and fall in love with the same woman.
The film was remastered and re-released by Paramount, as part of the studio's 100th anniversary this year.
'Hollywood history'
Exhibitor Cinemark Theatres subsequently teamed up with Paramount Pictures to release the film - initially in their XD Extreme Digital Cinema auditoriums. On 16 May, the film will be shown in a further 50 Cinemark outlets.
"This is a once in a lifetime opportunity to see Hollywood history on screen, with incredible visuals and the original score recorded by a full orchestra," said Cinemark's James Meredith, in a statement.
In order for the re-release to go ahead, the Motion Picture Association of America (MPAA) requested the studio submit Wings for rating as the movie predates 1968 when the ratings system was first created.
The film was notable, among other things, for its aerial battles and a semi-nude scene featuring Bow.
Following it original premiere, it played from more than two years in cinemas; in major cities, live sound effects were performed behind the screen.
However, by the time Wings took the top prize at the inaugural Oscar ceremony at Hollywood's Roosevelt Hotel in 1929, the advent of "talkies" was already sweeping the silent era aside.