'Lost' Cezanne painting fetches $19m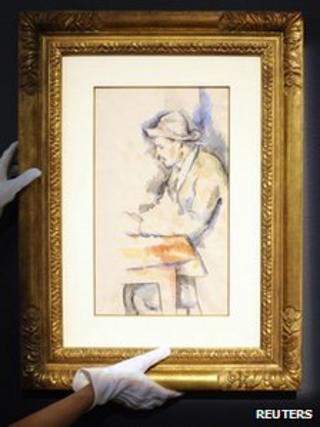 A Cezanne watercolour that was recently rediscovered after 60 years has been sold at auction for $19 million (£12m).
Card Player was a study for Cezanne's celebrated series of oil paintings, entitled Card Players.
It was only known to experts through a black and white photograph until it resurfaced in the collection of Dr Heinz Eichenwald, who died last year.
It was sold by Christie's in New York and depicts Paulin Paulet, a gardener on the artist's estate in France.
The painting was bought by an anonymous bidder.
Meanwhile, a Matisse floral still life titled The Peonies also fetched $19m at the auction.
Tuesday's sale was a warm-up for Wednesday's auction activity, when Sotheby's will offer one of the world's most recognisable artworks, Edvard Munch's The Scream.
Sotheby's said the artwork's price tag could exceed $80m (£50m).
The world record for a painting sold at auction is the $106.5m (£70m) paid for Pablo Picasso's Nude, Green Leaves, and Bust in 2010.