Warner Bros launch film scripts as e-books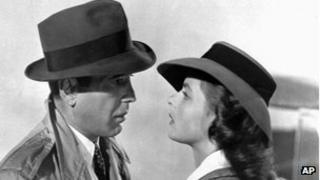 Ben Hur and Casablanca are among the film scripts to be released as e-books for the first time by Warner Bros.
Other movies in the Inside the Script series will include An American in Paris and North by Northwest.
The e-books include items such as the shooting script, production notes, storyboards and on-set photographs.
"Now we can give fans rarely seen details of how these stories came together," said Thomas Gewecke, Warner Bros president of digital distribution.
The Ben Hur e-book includes excerpts from Charlton Heston's performance and shooting journals from the film sets.
An American in Paris features a reproduction of the tickets to the film's Hollywood premiere from MGM make-up artist John Truwe.
Casablanca includes a telegram from producer Hal Wallis relating to his row with studio mogul Jack Warner, who beat Wallis to the stage to accept the film's Oscar for best picture in 1944.
And Hitchcock's North by Northwest includes costume sketches and composer Bernard Herrmann's music notes.