Britain's Got Talent takes ratings lead from The Voice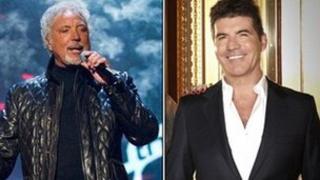 Britain's Got Talent edged ahead of rival talent show The Voice in the ratings battle on Saturday as the BBC show began the first of its live shows.
ITV's Britain's Got Talent (BGT) recently moved to a later slot after The Voice consistently beat the programme in a head-to-head clash.
But on Saturday, BGT drew an average of 9.4 million viewers to The Voice's 9.3 million, overnight ratings showed.
Viewers watching on ITV1+1 took BGT's average up to 9.9 million.
At its peak, 10.7 million tuned in for BGT on ITV1, while 10.3 million watched its BBC One rival.
The Saturday night scheduling has been a source of tension since it emerged in March that both channels were launching talent shows on the same night.
BGT judge Simon Cowell accused the BBC of "silly rivalry" and told BBC Radio 1: "If they decide they want to compete against us then bring it on."
However, earlier this month, the media mogul grudgingly congratulated BBC One controller Danny Cohen and The Voice via Twitter on the show's ratings success.
More recently, The Voice judge Will.i.am has insisted the shows "need each other".
"The rivalry is important," he said. "They need each other... because the music industry needs these shows."
The Black Eyed Peas star is a judge on The Voice alongside Sir Tom Jones, Jessie J and The Script's Danny O'Donaghue.
Saturday's show saw all five of Will.i.am's contestants perform alongside Sir Tom's contestants to keep their place in the contest.
However after a public vote, Sam Buttery and Sophie Griffin were eliminated from the competition.