Bob Dylan to get US Medal of Freedom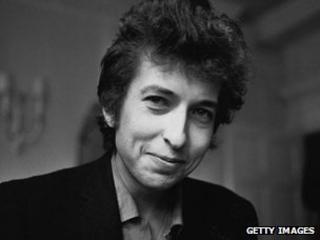 Bob Dylan is to receive America's highest civilian honour, the Medal Of Freedom, it has been announced.
He is being recognised alongside former Secretary of State Madeleine Albright, John Glenn, the third American in space, and Nobel Prize-winning novelist Toni Morrison.
President Obama will award the medals at the White House in the coming weeks.
In a statement, he said: "They've challenged us, they've inspired us and they've made the world a better place."
Dylan was born Robert Allen Zimmerman on May 24, 1941 and began his musical career in 1959, playing in coffee houses in Minnesota.
He took his stage name from the poet Dylan Thomas and, not coincidentally, paid as much attention to his lyrics as his music.
Much of his best-known work dates from the 1960s, when he became an informal historian of America's troubles.
Songs like Blowin' In The Wind and The Times They Are A-Changin' became anthems of the anti-war and civil rights movements.
His move away from traditional folk songwriting, paired with a controversial decision to "go electric" proved equally influential - his confessional, introspective lyrics were undoubtedly absorbed by The Beatles in their later work.
He continues to record and tour, expanding his horizons with a US radio show (syndicated on Radio 2 and BBC 6 Music in the UK) and a recently-signed six-book publishing deal.
Morrison has become renowned for her portrayal of the African-American experience in novels such as Song Of Solomon and Beloved, which won the Pulitzer Prize in 1988.
Born Chloe Anthony Wofford, in 1931 in Ohio, she went on to become a senior editor at publishers Random House before pursuing her writing career.
Outside of novels, she has written literary criticism and even lyrics for operas, including Honey and Rue, with music by Andre Previn,
Once asked by a student who she wrote for, Morrison replied: "I want to write for people like me, which is to say black people, curious people, demanding people...
"People who can't be faked, people who don't need to be patronized, people who have very, very high criteria."
Albright, meanwhile, was born in Prague - in what was then Czechoslovakia, and was the first woman to hold the top diplomatic post in the US.
Other recipients of the Medal Of Freedom announced by the White House were:
Shimon Peres, Israeli president and Nobel Peace Prize laureate.
Gordon Hirabayashi, who openly defied the forced relocation and internment in the United States of Japanese Americans during World War II.
John Doar, civil rights attorney.
William Foege, a physician who led the campaign to eradicate smallpox.
Dolores Huerta, civil rights worker and women's advocate.
Jan Karski, an officer in the Polish Underground during World War II and one of the first people to provide accounts of the Holocaust to the world.
Juliette Gordon Low, founder of the Girl Scouts.
John Paul Stevens, former Supreme Court Justice.
Pat Summitt, former women's basketball coach at the University of Tennessee.
Previous honourees include Mother Theresa, Margaret Thatcher, Stephen Hawking, Walt Disney, Doris Day, Maya Angelou, Duke Ellington and Aretha Franklin.