Robin Gibb has 'beaten the odds', son says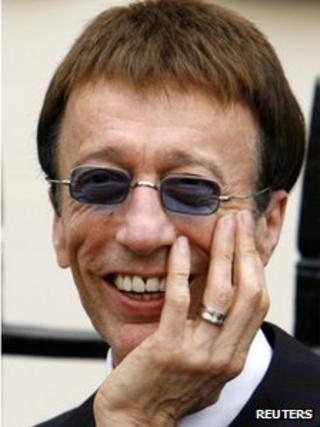 Bee Gees singer Robin Gibb, who woke from a coma at the weekend, has been laughing and joking and wants to go home from hospital, his wife has said.
Dwina Murphy-Gibb told ITV News her husband was "really happy... he just wants to get out".
Gibb's son Robin-John said: "They gave him an under 10% survival chance and he has beaten the odds... he really is something else."
The 62-year-old star fell into a coma last week after contracting pneumonia.
He has also been battling colon and liver cancer. Gibb's son said his father was "completely compos mentis now".
The family - including son Spencer and daughter Melissa - had been playing Bee Gees tunes to the singer as he lay in a coma and noticed Gibb trying to mouth words to the songs.
When his latest composition was played, Gibb began to come round, they said.
"He woke up while we were playing the track which is a movement from the Titanic Requiem we have just written," Robin-John Gibb told ITV News.
The star was unable to attend the London premiere of his first classical work two weeks ago after contracting pneumonia.
The singer had also been due to perform a new song at The Titanic Requiem concert earlier this month to commemorate the centenary of the famous ship's sinking.
Robin-John Gibb added that two days before his father regained consciousness, "they said they had thrown the kitchen sink at him, that it was time to make plans because he was in God's hands".
Earlier this week, doctors treating Gibb say they had been "confounded" by his recovery since waking from a coma.
The singer's physician Dr Andrew Thillainayagam said the "exhausted" star had shown "extraordinary courage, iron will and deep reserves of physical strength".
But he added: "The road ahead for Robin remains uncertain but it is a privilege to look after such an extraordinary human being."
Gibb is being treated at the London Clinic in the centre of the capital.
Gibb's wife added that her husband's brother and bandmate Barry would go to see him on Thursday and that the pair had spoken on the phone.
The British-born singer had surgery on his bowel 18 months ago for an unrelated condition. But a tumour was discovered and he was diagnosed with cancer of the colon and later of the liver, for which he had chemotherapy and surgery.
Gibb's musical career began when he formed the Bee Gees with his brothers Barry and Maurice in 1958.
The group is among the biggest-selling groups of all time with hits spanning six decades including Stayin' Alive, How Deep Is Your Love, Massachusetts and Night Fever.