Yinka Shonibare Ship in a Bottle finds new home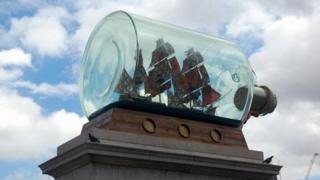 A piece of artwork featuring a ship in a bottle which appeared on Trafalgar Square's Fourth Plinth has found a permanent home.
Yinka Shonibare's Nelson's Ship in a Bottle was on display in London between May 2010 and January 2012.
Following a successful public appeal for funds and an Art Fund grant, the work will go on permanent display at the National Maritime Museum in London.
The scaled-down replica of HMS Victory will be on view from 25 April.
This coincides with the Greenwich museum's 75th anniversary.
Along with a £50,000 from the Art Fund, the public raised the necessary funds - £362,500 - to enable the museum to acquire the work and put it on permanent display.
The museum itself contributed £49,100 to the effort, matched by London's Stephen Friedman Gallery, on behalf of Shonibare.
"I am absolutely delighted and touched by the public's generosity," said British-Nigerian artist Shonibare.
"It is testimony to the importance of keeping Nelson's Ship in a Bottle in the country," he added.
Nelson's Ship in a Bottle was commissioned by the mayor of London and unveiled as the latest occupant of the Fourth Plinth in May 2010.
The artwork will stand outside the Maritime Museum's new Sammy Ofer Wing, where it will be freely accessible to all.
Director of the National Maritime Museum, Kevin Fewster, said: "I am confident our millions of visitors will get great pleasure from it for years to come."
Shonibare's work measures 4.7 metres in length and 2.8 metres in diameter.
The ship's 27 sails are made of textiles commonly associated with African dress and symbolic of African identity and independence.
Shonibare was born in London and moved to Nigeria at the age of three before returning to the UK to study fine art.
He currently lives and works in the London's East End.