London 2012: Selected highlights of Festival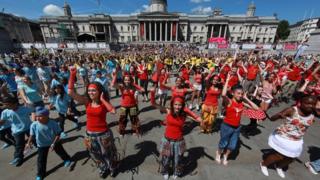 Here are some of the key cultural events hitting the capital and the rest of the UK as part of the London 2012 Festival , the 12-week programme of arts events running in parallel to the Olympics.
The festival features thousands of performances and artworks, celebrating the grand finale of the Cultural Olympiad, a programme of arts events that have been running since 2008.
Theatre and Performance
World Shakespeare Festival: 23 April - 20 October 2012 (Nationwide)
The biggest celebration of William Shakespeare ever staged, this festival is produced by the Royal Shakespeare Company . One million tickets are up for grabs for new productions, global collaborations and radical interpretations of the Bard's plays by some of the world's leading theatre companies. It also features exhibitions, events and interactive online projects. Globe to Globe will stage all of Shakespeare's 37 plays, each in a different language and by a different international company.
Productions and events will take place across the UK, in locations including Stratford-upon-Avon, London, Newcastle, Gateshead, Wales and Scotland.
Dr Dee: 25 June- 7 July 2012 (London Coliseum)
Blur and Gorillaz frontman Damon Albarn has written a stage show that combines acoustic pop with contemporary opera . It tells the story of Dr John Dee, an influential political adviser, mathematician, magician and scientist during the reign of Queen Elizabeth I. He was the purported inspiration for Shakespeare's magician Prospero in The Tempest as well as Christopher Marlowe's Doctor Faustus, who sold his soul to the Devil.
Dr Dee is presented by the English National Opera and directed by Rupert Norris, whose West End and Broadway shows include Cabaret and Don Giovanni.
Einstein on the Beach: 4 - 13 May 2012 (Barbican, London)
The UK premiere of the epic opera by Oscar-nominated composer Philip Glass and director Robert Wilson, which they wrote nearly 40 years ago. The production, which was last performed 20 years ago, takes images from physicist Albert Einstein's life and ideas, and creates an imagined universe of its own.
Film
A Running Jump, directed by Mike Leigh: 21 June - 9 September 2012 (Picturehouse Cinemas, Nationwide)
Acclaimed British director Mike Leigh has created a comic film which has been set and shot in east London, reflecting on sport in the life of a family played by Eddie Marsan, Sam Kelly and Samantha Spiro. The family - dodgy second-hand car dealer Dad, ladies' fitness centre manageress Mum, their twin swimming pool lifeguard daughters and football-obsessed Grandad - is set against a world of endless sporting activity of every kind.
The Swimmer, directed by Lynne Ramsay: 24 June - 9 September 2012 (Picturehouse Cinemas, Nationwide)
Director Lynne Ramsay, who was behind the acclaimed We Need To Talk About Kevin, has created a film which film follows a lone swimmer thorugh lakes , rivers and coves of the waterways and coastline of the British Isles. The soundtrack features iconic British music, from Delius to The La's as well as snippets of bankside conversations.
The Genius of Hitchcock: 14 June - 22 October 2012 (British Film Institute, Southbank, London)
The British Film Institute is celebrating the life of the master of suspense Alfred Hitchcock, in a three-month long season screening all 58 of his films, including Psycho, The Birds and Vertigo.
It will also feature restorations of his silent 1920s movies Champagne and Blackmail, set to live musical accompaniment.
Hitchcock actors Tippi Hedren and Bruce Dern will also take part in live events.
Art
Lucian Freud Portraits: 9 February - 27 May 2012 (National Portrait Gallery, London)
A major exhibition focusing on 70 years of portraits by one of Britain's most distinguished and highly regarded artists, who died last year. This show includes more than 100 paintings and works on paper loaned from museums and private collections throughout the world. This is the first major show to focus on Freud's portraits, for which he painted his lovers, friends, family and himself.
Freud's sitters, who he described as "people in my life", include Frank Auerbach, Francis Bacon, Michael Andrews, John Minton and David Hockney, and the performance artist Leigh Bowery, whose friend Sue Tilley, famously painted by Freud in the 90s, also features.
Damien Hirst: 4 April- 9 September 2012 (Tate Modern, London)
This retrospective of the controversial artist's work features highlights from his phenomenally successful career, including The Physical Impossibility of Death in the Mind of Someone Living, in which he suspended a shark in formaldehyde, and Mother and Child Divided, a four-part sculpture of a bisected cow and calf.
The exhibition will also include paintings from the spot, spin, butterfly and fly series by Hirst, who is one of the most prominent artists to have emerged from the British art scene in the 90s.
Tracey Emin - She Lay Down Deep Beneath The Sea: 26 May- 23 September 2012 (Turner Contemporary, Margate - Free)
The first major exhibition by former Turner Prize nominee and Olympic poster designer Tracey Emin in Margate. This one-person show was conceived especially for her hometown, the inspiration for many of her artworks, and will explore the themes of love, sex and romanticism.
It will feature both new and existing works, including drawings, monoprints, sculptures and neons, while the central themes for the exhibition - exploring female sexuality - will be explored in paintings, sketches and watercolours by Emin, JMW Turner and Auguste Rodin, whose famed sculpture The Kiss will be on show.
Music
BBC Proms: 13 July - 8 September (Royal Albert Hall, London)
During the 118th season , Daniel Barenboim and his West-Eastern Divan Orchestra will perform all nine Beethoven symphonies, a feat last achieved at the Proms 60 years ago. It will culminate with the orchestra playing the Ninth Symphony on the opening night of the London Olympics.
Wallace and Gromit are to make an appearance in animated sequences accompanying the commissioned work, My Concerto in Ee, Lad, which will be performed by the Aurora Orchestra on 29 July. All BBC Proms are broadcast live on BBC Radio 3, in HD Sound on the website and selected Proms are broadcast on BBC TV and distributed around the world.
The Big Concert - Gustavo Dudamel and the Simon Bolivar Symphony Orchestra of Venezuela: 21 June 2012 (Stirling Castle, Scotland)
Internationally renowned conductor Gustavo Dudamel will lead a 200-strong orchestra at a spectacular outdoor performance set against the backdrop of Stirling Castle.
Since 2008, the children of Raploch in Stirling have been learning orchestral instruments and playing music together in Big Noise - inspired by and partnered with El Sistema, the Venezuelan project which has transformed the lives of thousands of children through classical music. Dudamel, who started learning music with El Sistema, is also patron of Sistema Scotland.
BT River of Music: 21 - 22 July 2012 (River Thames, London - Free)
This weekend of music will see six stages along the River Thames featuring performances by Scissor Sisters, Jazz at Lincoln Center Orchestra with Wynton Marsalis, Naturally 7, Baaba Maal, Angelique Kidjo, Zakir Hussain and Andy Sheppard. It will also include musicians representing all of the Olympic and Paralympic nations.
Musicians from the world's major continents will be represented across six stages: Battersea Park (Asia stage); Jubilee Gardens (Africa stage); Trafalgar Square (Europe stage); Somerset House (Europe stage); Tower of London (Americas stage) and Greenwich Old Royal Naval College (Oceania stage).
Outdoor events
Land of Giants: 30 June 2012 (Northern Ireland)
The largest outdoor arts event held in Northern Ireland will feature acrobatics, aerial dance, carnival, circus, music, multimedia and pyrotechnics for more than 20,000 people in Belfast.
It is inspired by giants from the history of the area, both past and present. Special focus will be given to Finn McCool, the giant who built the Giant's Causeway; Gulliver, whose features are outlined in the surrounding hills; Samson and Goliath, the two cranes that have dominated the Belfast skyline for the past 40 years; and the Titanic, together with her less famous sister ship, the Olympic. The show is directed and realised by Mark Murphy and produced by John Wassell of Walk The Plank for Giant Events Company.
Les Commandos Percu - On The Night Shift: 21 June 2012 (Lake Windermere)
This show, following the arrival of the Olympic torch at Lake Windermere, will combine fireworks and percussion to create a blend of musical rhythms and a dazzling display. It will be the world premiere of this show by the French percussion and pyrotechnic experts, which also features specially selected artists from the UK.
Marc Rees - Adain Avion: 24 June - 11 August 2012 (Wales)
Welsh artist Rees is celebrating the 20th anniversary of Adain Avion , a mobile art space made from the recycled fuselage of a DC-9 airplane that was transformed by Spanish sculptor Eduardo Cajal. Reese has brought it to the UK for the first time and is working with contemporary artists and community groups who will pull it into place as it arrives at each location.
It will then be used to host a week of cultural activities reflecting the distinctive history and culture of each area. There are already more than 2,000 participants, 40 artists and 65 community groups involved.
Museums and Heritage
Heatherwick Studio: Designing the Extraordinary: 31 May - 30 September 2012 (Victoria and Albert Musem, London)
The first major solo exhibition of the work of the British design studios established by Thomas Heatherwick , who designed the 2012 Olympic cauldron.
It will showcase the wide variety of projects the studios have worked on during the last 20 years, including the redesign for the London double-decker bus and the UK Pavilion (Seed Cathedral) at the Shanghai World Expo 2010. The Seed Cathedral was a huge structure featuring 60,000 transparent acrylic rods that each contain a seed, and it won the Royal Institute of British Architects' Lubetkin Prize in 2010.
The Olympic Journey: The Story of the Games: 28 July - 12 August 2012 (Royal Opera House, London - Free)
This exhibition will tell the powerful human stories behind the Olympics, highlighting some of the people behind some key moments from Games of the past. The show starts at the home of the Games in ancient Greece, going on to explore the vision of Baron Pierre de Coubertin, the man behind the revival of the Games many centuries later.
It concludes with tales and achievements of Olympic athletes from the last century and exhibits will include all of the medals and torches of the modern Games. The show was made in collaboration with the Olympic Museum.
Shakespeare - Staging the World: 19 July - 25 November 2012 (British Museum, London)
This exhibition will reveal how Shakespeare's plays offer insight into the emerging role of London as a world city 400 years ago. It will also explore how the playhouse was, for the audience, a "window to the world outside London", and how Shakespeare helped shape a "new sense of national identity".
The event will include contemporary performance and objects from the museum's collection and across Europe, with maps, prints, drawings and paintings, arms and armour, coins and medals.
Families
The Voyage: 21 June- 24 June 2012 (Birmingham - Free)
This outdoor spectacle features an enormous ship sailing into Victoria Square, crewed by dancers and aerialists plus a huge amateur choir, live musicians and more than 140 community performers.
As the ship sets sail, the Town Hall and city's skyline will be transformed by an elaborate light and sound show.
The Summer 2012 Reading Challenge: 1 July - 10 September 2012 (Nationwide - Free)
This is aimed at getting children to read six books from their library during the summer holidays by signing up for the challenge at their local library when school breaks up. It is free and each child will get a membership card or pack, with the chance to collect stickers for their challenge-activity kit.
Children of all ages and reading abilities can join in, and can also use audio books and e-books.
Fire Garden at Stonehenge: 10 July- 12 July 2012 (Salisbury International Arts Festival, Wiltshire)
As the sun sets, the World Heritage site of Stonehenge will be transformed by fire sculptures, candles and live music, created by French outdoor wizards Compagnie Carabosse . They have staged installations across Europe, with each event unique to its specific location.
Dance
Big Dance 2012: 18 May - 15 July 2012 (Nationwide - Free)
The UK's biggest ever celebration of dance is open to anyone, featuring thousands of events, including classes, workshops, courses, performances, flashmobs, have-a-go days, film screenings, photography courses, competitions, world record attempts and dancing in unusual spaces.
Tanztheater Wuppertal Pina Bausch - World Cities 2012: 6 June - 9 July 2012 (Barbican and Sadlers Wells, London)
Celebrating one of dance's most influential choreographers, the late Pina Bausch, this season of international co-productions features 10 works inspired by 10 global locations. Bausch embarked on this project in 1986, and each co-production was created at the invitation of a specific city. After living in each location, her company would then return to Wuppertal, in Germany, to create a piece inspired by their visit.
Spill: 6 - 7 May (touring the West Midlands - Free)
This 30-minute outdoor production uses existing children's playground equipment as its set. Directed by Australian choreographer Shaun Parker, it will tour communities in the West Midlands combines dynamic dance with high-energy street gymnastics. Each performance is unique, with dancers harnessing swings, slides and roundabouts.