Ann Widdecombe makes opera debut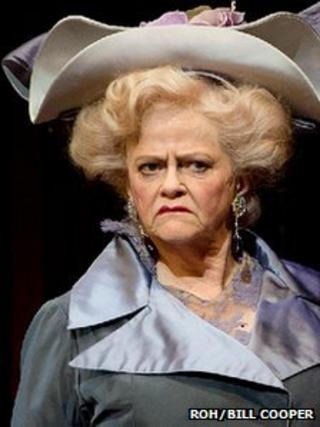 Former Conservative MP Ann Widdecombe has made her debut at London's Royal Opera House in La Fille Du Regiment.
The 64-year-old stars as Duchesse de Crackentorp in Gaetano Donizetti's comic opera.
The 10-minute cameo - which is a non-singing part - has previously been played on stage by comedian and actress Dawn French.
Widdecombe will appear in the role for seven performances until 10 May.
Donizetti's opera tells the tale of an orphaned girl who is adopted by a regiment during Napoleonic Wars - although in the Royal Opera's production, it is updated to World War I.
The Duchess is a comic role which involves brief appearances at the start, and at the end of Act Two.
The Daily Mail said the former Strictly Come Dancing contestant was "endearingly dreadful".
"As an actress, she inhabits more of a twilight zone, somewhere between a creature of the night (old bat), grumpy Lady Bracknell and diminutive pocket battleaxe," David Gillard wrote .
He added: "She speaks mainly in grotesquely accented French, but manages a few gags about Cornish pasties, the Olympics and Strictly."
The Daily Express said the opera was "perfect casting" for Widdecombe.
"What lingers is the sight and sound of Ann Widdecombe stamping across the stage and speaking French in the most proudly English accent since Edward Heath."
Kasper Holten, the Royal Opera House's director of opera, said the part required "a strong personality".
"In the spirit of casting a personality renowned for their work on the non-operatic stage, Ann Widdecombe proved to be an irresistible option," he said.
It is not the first time Widdecombe has appeared on stage - last year she starred in the pantomime Snow White, opposite Strictly Come Dancing judge Craig Revel Horwood, in Kent.