Leonard Cohen's former manager jailed for harassment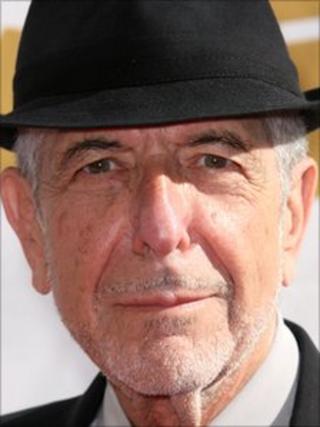 Leonard Cohen's former manager has been jailed for 18 months for harassing the singer-songwriter.
Kelley Lynch was found guilty by a Los Angeles court last week, after a sending a torrent of expletive-strewn emails and letters to the star.
She was also sentenced to five months probation and ordered to attend anger-management courses.
Cohen thanked the court for the "even-handed and elegant manner in which these proceedings have unfolded".
"It was a privilege and education to testify in this courtroom," he told an LA county superior court judge.
Lynch is not likely to spend her full sentence behind bars due to prison overcrowding in California.
She served as Cohen's manager for 17 years, and the pair had a brief relationship.
But the singer fired, and then sued, her in 2004 over the theft of millions of pounds from his personal fortune.
A judge ordered Lynch to pay $9.5m in damages, but her lawyers claimed she was unreachable and the money was never repaid.
Cohen, whose best-known songs include Hallelujah and Suzanne, later came out of retirement, in part to rebuild his finances.
Lynch's campaign of harassment started soon after she was fired.
The court was shown binders of emails she had sent the star, some of which ran to 50 pages.
In a statement made before the sentencing, Lynch accused prosecutors of carrying out a "vicious attack" on her.
However, she added: "I do believe that I have engaged in excessive and unauthorised rambling".
"It gives me no pleasure to see my onetime friend shackled to a chair in a court of law," said Cohen, "her considerable gifts bent to the service of darkness, deceit and revenge."