Wallace and Gromit to feature at BBC Proms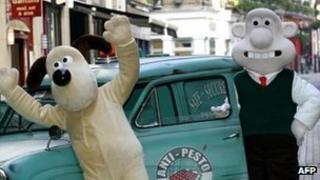 Wallace and Gromit are to make an appearance at this year's BBC Proms, it has been announced.
Animated sequences will accompany the commissioned work, My Concerto in Ee, Lad, which will be performed by the Aurora Orchestra on 29 July.
The eight-week musical extravaganza starts on 13 July.
The BBC said that with the Queen's Diamond Jubilee and the 2012 Olympics, this year's Proms "promises to be unlike any other".
Organisers said the Concerto in Ee, Lad - being shown as part of the London 2012 Festival - would capture the "warmth, grittiness and gumption" of the popular Wallace and Gromit characters.
The work will be shown alongside their film A Matter Of Loaf And Death, which will be accompanied by a live orchestral soundtrack.
Conductors Martyn Brabbins, Sir Mark Elder, Sir Roger Norrington and Edward Gardner will open the annual event, which runs until 8 September.
During the 118th season, Daniel Barenboim and his West-Eastern Divan Orchestra will perform all nine Beethoven symphonies, a feat last performed at the Proms 60 years ago.
It will culminate with the orchestra playing the Ninth Symphony on the opening night of the London Olympics.
The Orchestra - founded by Barenboim and Palestinian academic Edward W Said in 1999 - is also set to make Prom history, as the first non-BBC orchestra in residence.
'Something for everyone'
This year's Proms will feature 17 new commissions, with a further five world premieres, including Bob Chilcott's The Angry Planet.
BBC Radio 4's programme Desert Island Discs will celebrate its 70th birthday with its first prom, presented by Kirsty Young, while Gilbert and Sullivan's The Yeoman Of The Guard will be given its first complete performance.
Other highlights include performances from opera singers Bryn Terfel and Joseph Calleja; John Adams will conduct his own music, including the "groundbreaking" opera Nixon in China, during two Proms.
"From Daniel Barenboim to Wallace and Gromit, we once again look forward to welcoming the world's greatest artists to a festival where there is something for everyone to enjoy," said Proms director Roger Wright.
Every concert will be broadcast live on BBC Radio 3 and online, and many of them will be broadcast on BBC One, BBC Two and BBC Four.