Globe to Globe: Maori Troilus and Cressida puts haka into Shakespeare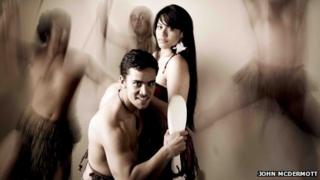 As the Globe to Globe Festival begins in London, the director of New Zealand's version of Troilus and Cressida explains how she put Maori culture at the heart of Shakespeare's Trojan tragedy.
Of all the theatre companies who are presenting all 37 of Shakespeare's plays in 37 different languages at Shakespeare's Globe Theatre, it is New Zealand's Ngakau Toa who have travelled the furthest.
The Maori version of Troilus and Cressida begins the six-week Globe to Globe season on Monday, which is also Shakespeare's birthday.
"It's a great honour to be on first - we are thrilled and quite nervous," says director Rachel House, during a break from final rehearsals in Auckland.
The play has already had several performances in New Zealand, where it has received warm reviews.
The New Zealand Herald said: "The production is a remarkable testimony to the transcendent quality of Shakespeare's writing that is somehow able to speak across time and culture."
The 14-strong cast includes Maori actor Rawiri Paratene, who is best known outside New Zealand for his role as Koro, the grandfather, in the 2002 film Whale Rider.
Paratene, who is also producing the play, is no stranger to the Globe, having performed there in a 2009 production of Romeo and Juliet.
Warrior dance
Troilus and Cressida begins with a haka, the warrior dance that has become globally recognised thanks to the pre-match ritual of the New Zealand rugby team.
"You guys only see the haka before the rugby," says House. "There are actually thousands of haka, and the ones you see in the play have been choreographed specifically for the show."
House says the haka felt like a natural inclusion in the story.
Her production transports the action from the siege of Troy and sets it against a background of Maori tribal conflict in the period before European contact.
"There's scene in which Achilles calls his tribes people to him to help him find Hector and kill him - so we've turned that into a haka."
In the new Maori translation - by Te Haumiata Mason - Troilus becomes Toroihi, Cressida is Kahira, while Parihi (Paris) is the prince of Toroi (Troy).
According to Rachel House, Troilus and Cressida survives translation and reinterpretation because of its universal themes of love and war.
Shakespeare's language, she explains, translates into something "visceral, raw and quite brutal" in Maori.
Not a fluent Maori speaker herself, the director has written a scene-by-scene breakdown for audiences.
But she advises: "Really they should just relax and enjoy it and not panic about the fact they don't understand the language.
"There are tones and expressions and emotions that are easily identifiable because they are so universal."
House said it was important to get the play right on home territory before bringing it on in London. The production has received standing ovations in Auckland and Wellington.
"It felt like people were giving respect to the concept of putting our language and culture so vividly within the world of Shakespeare, and that we'd risen to the challenge," says House.
But what of Troilus and Cressida's "problem play" reputation, with its sudden shifts between comedy and tragedy?
"In Maori culture there's a lot of humour and just as quickly we are able to express grief. They really do go hand in hand in our culture so the play fitted quite well."
Globe to Globe is part of the World Shakespeare Festival and the London 2012 Festival.
Ngākau Toa presents Troilus and Cressida, performed in Maori, on Monday 23 April and Tuesday 24 April
Globe to Globe Festival 2012 is at Shakespeare's Globe, until 6 June 2012