President Obama leads tributes to TV host Dick Clark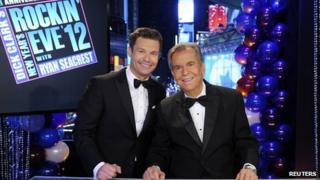 Tributes have been pouring in following the death of American veteran TV presenter Dick Clark, with President Barack Obama saying he "reshaped the television landscape forever".
Clark, who was 82, died following a heart attack on Wednesday.
He produced and presented a host of programmes including American Bandstand and an annual New Year's Eve special.
Ryan Seacrest, who took over the New Year's Eve special, called him "one of the greatest influences in my life".
Clark suffered a stroke in 2004, which led to Seacrest joining as host of Dick Clark's Rockin' New Year's Eve.
"I idolised him from the start, and I was graced early on in my career with his generous advice and counsel," said Seacrest.
"When I joined his show in 2006, it was a dream come true to work with him every New Year's Eve for the last six years."
Clark hosted and produced the music show American Bandstand from 1957 to 1987. The show saw groups of teenagers dancing to the top 40 tracks of the day, with a guest performer singing their latest hit.
An astute businessman and producer, Dick Clark was also referred to as "the world's oldest teenager" because of his youthful appearance.
President Obama said: "Michelle and I are saddened to hear about the passing of Dick Clark. With American Bandstand he introduced decades worth of viewers to the music of our times.
"For 40 years, we welcomed him into our homes to ring in the New Year.
"But more important than his groundbreaking achievements was the way he made us feel - as young and vibrant and optimistic as he was."
Among the guests on American Bandstand were the artists from the Motown roster.
Motown founder Berry Gordy said: "Dick was always there for me and Motown, even before there was a Motown.
"He was an entrepreneur, a visionary and a major force in changing pop culture and ultimately influencing integration. It happened first emotionally. Music can do that. He didn't do it from a soap box, he just did it."
American Bandstand also spawned the show So You Think You Can Dance, which has been reproduced around the world.
Record producer Clive Davis said: "Dick Clark was a true pioneer who revolutionised the way we listened to and consumed music.
"Before American Idol, X Factor and The Voice, even before MTV, it was American Bandstand, which brought the most popular music of the day straight to the nation's living rooms.
"Many artists made their debut on the Bandstand stage, and for generations he steadfastly welcomed millions of fans to his celebrations of the best of contemporary music. For me he ranks right up there with the giants of our business."
Dick Clark also created the American Music Awards (AMAs) in 1973, to compete with the Grammys.
Michael Jackson is credited with winning the most AMAs, collecting 27 during his lifetime.
His sister Janet Jackson tweeted: "Dick Clark changed the face of musical television. He was wonderful to many artists including our family. We will miss him. God bless."