Marianne Faithfull puts troubled past on show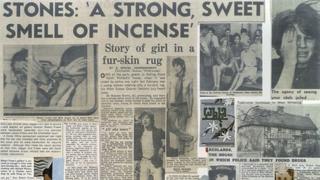 Marianne Faithfull, the singer and former muse of Mick Jagger, has used an art exhibition at the Tate Liverpool gallery to confront her troubled past.
Faithfull was given access to the Tate collection to curate an exhibition reflecting her life and career.
She has included an artwork by Richard Hamilton made from newspaper headlines from an infamous 1967 drugs bust at the home of Rolling Stone Keith Richards.
"It's good to remember the horrible things that happened to me," she said.
Faithfull, who was 20 at the time, became notorious as the girl found by police wearing nothing but a rug.
The artwork, titled Swingeing London 1967, features newspaper headlines about the "story of girl in a fur-skin rug" and of Jagger's subsequent court case.
She says the Stones and the others at the house, called Redlands, in Sussex, were persecuted by the establishment and the episode led to a downward spiral in her personal life.
She spent much of the 1970s as a heroin addict, homeless and anorexic.
A copy of the picture hangs on the wall of her dining room at her home in Paris, she revealed at the exhibition opening on Friday. "It's good not to forget," she said.
"I'm talking from a position of power now. I was not destroyed. I did not end up a heroin addict dead on the street, which is what it looked like after the Redlands bust - and that is the effect it had on me.
"The establishment didn't manage to destroy me."
The exhibition is titled Innocence and Experience and Faithfull has also included works by Lucian Freud, Francis Bacon, Rene Magritte and Sir Peter Blake.
"The chance to play in the Tate archives is just fantastic and, of course, I found everything I wanted that had influenced me so much," she said.
"I was trying to give a picture of the time I lived in in the '60s and '70s, and who I was, and who I am, and what went into my head, and how I became who I became."
She has curated the exhibition with her ex-husband John Dunbar, who founded the Indica gallery in London, where John Lennon met Yoko Ono.
Faithfull is the latest cultural figure to curate a personal exhibition at the gallery following Poet Laureate Carol Ann Duffy and hat designer Philip Treacy. The exhibition runs until 2 September.