Acting to transform theatre's future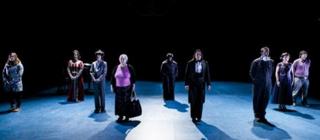 Regional theatres have been warned that they risk irrelevance unless they reinvent themselves with a more radical approach. The West Yorkshire Playhouse in Leeds is hoping to lead the way - but with less money, it will not be easy.
A bored office worker tap dances on her desk. A social worker vents his anger at the government through the medium of jazz trombone. A painter and decorator pays tribute to his mum using humour and a few buckets of paint.
They were among nine real people who worked with professional directors and designers to put their stories on stage in a show called 9 at the West Yorkshire Playhouse at the weekend.
The resulting journeys inside the minds of these ordinary people were inventive, joyful and just about as enjoyable as any piece of "proper" theatre.
Twenty-three-year-old Oliver Scarth, the painter and decorator, got involved after his wife stuck an article about the show from the local paper to their fridge, accompanied by the words: "Apply now!"
Scarth, who was born with a cleft lip and palate, says his segment was "my way of showing my mum my appreciation for all her support over the past 23 years, when she could have broken down in tears".
On Sunday, after the nine stepped back out of the spotlight, two writers and directors from opposite ends of Europe - Chris Thorpe from Manchester and Nikolai Khalezin from Belarus - went into a rehearsal room with six performers and no script.
"All we know is that at the end of the week they'll go out onto the stage and do something," says West Yorkshire Playhouse associate producer Amy Letman.
"We know it will be brilliant because of who they are. But we don't know much else about it yet."
And next weekend, if you wish, you can run through the bowels of the building, following clues and meeting strange characters in an interactive and immersive production.
It is a far cry from the Playhouse's staple diet of classics, revivals and comparatively safe new plays.
The theatre has just staged William Shakespeare's Love's Labour's Lost, and Tom Stoppard's The Real Thing will be next.
But for these two weeks, with a festival titled Transform, the theatre is ripping up the rule book and testing some radical ideas.
Letman says the current shows have been created in ways that are "totally different" from the usual formula, explaining: "None of them began with a script."
The Playhouse is not the only established British theatre to think about its future in an era when an new generation of theatre-makers is creating plays in innovative ways or performing in unusual locations.
Chris Goode made his name staging shows in sitting rooms and has become one of Britain's most lauded theatre mavericks.
He was enlisted by the West Yorkshire Playhouse to direct 9, and believes regional theatres must reinvent themselves. "Theatre has changed a lot, even in the time that I've been making it," he says.
"The agenda now is much more about a kind of fluidity, it's not just about a big institution that makes decisions behind closed doors about what the programme's going to be, and then putting that work in front of an audience and counting on that audience to come back and back."
The way people consume culture has changed and the more nimble organisations are the ones that are thriving, he says.
"It's about making different kinds of connections in different places in different ways. Organisations that don't do that will fail."
This is the second year of Transform, part of a wider Arts Council-funded project in which the Leeds theatre is re-examining every part of its organisation - from shows to ticket prices and staff structures.
"It doesn't mean by any means that you'll never see us do another Tom Stoppard or William Shakespeare production here," says Playhouse chief executive Sheena Wrigley.
"But it means that, where those [new] ideas are very exciting, we can potentially put more resources in the hands of those artists, and they might produce some very striking pieces of larger-scale work."
Of four new productions tested during a parallel experimental season dubbed Furnace, Wrigley says three "have excited us enough to think that there might be full-scale projects coming off them".
Wrigley also points to a forthcoming stage adaptation of Benjamin Zephaniah's novel Refugee Boy, which has taken lessons from the theatre's cutting-edge collaborators.
"The way that we're looking at developing that project mirrors much more the development process that somebody like Chris Goode might use than it does the traditional West Yorkshire Playhouse methodology," she says.
"I think what you'll get over time is this blurring of the distinction between this 'very strange weird stuff' and this stuff that's developed in a traditional way."
However, in the four years since the Playhouse first planned to get involved with this "very strange weird stuff", the funding landscape has changed markedly.
The theatre has lost about £400,000 of annual Arts Council and local council funding in the last couple of years - or 20% of its total public subsidy - Wrigley says.
'More commercial'
As a result, the theatre's mainstream, main stage work will have to be "more commercially orientated" and they are likely to make fewer shows, she says.
So there is a conundrum. To remain relevant, the theatre must be more artistically adventurous. But the radical new methods appear less likely to throw up a major commercial hit.
Wrigley insists that the theatre would "cease to be artistically exciting" if it simply chased the bottom line. The more commercial shows will help subsidise experimental work, she says.
Incoming artistic director James Brining will also have a big say, of course.
"We have no desire to be a museum theatre," Wrigley continues. "Part of this is about absolutely ensuring that we're not.
"The trick is trying to balance the two. That is not easy but I have to continue to believe that it's possible, otherwise we don't have a viable future."