Cate Blanchett 'mesmerising' in Barbican play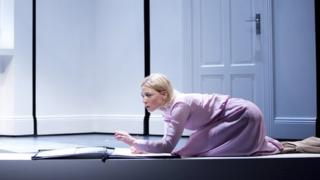 Critics have hailed Cate Blanchett as "mesmerising", "magnificent" and "beyond terrific" for her latest role on stage at The Barbican in London.
The Australian actress is appearing in Big And Small, written by German playwright Botho Strauss in 1978.
"Cate Blanchett gives a simply mesmerising performance as a woman edged out of her own life," wrote Dominic Maxwell in The Times.
Her performance was "technically dazzling yet deeply felt", he added.
Blanchett plays Lotte, a graphic designer seeking a sense of belonging in a world where she seems perpetually out of place.
Many critics were more enthusiastic about Blanchett's performance than the play itself, which Maxwell described as a "tricky customer".
In The Evening Standard , Henry Hitchings praised her "electrifying" appearance, while Euan Ferguson of The Observer gushed that Blanchett was "beyond terrific".
"Whimperingly, blisteringly terrific," he added. "She is a revelation.
"It is well-nigh impossible to tear one's eyes from Cate Blanchett, right from the opener, as she sits, smoking, on stage, gazing at us, soliloquising at us."
'Luminous'
The play, produced by the Sydney Theatre Company - of which she is the co-artistic director, has arrived in London after a run in Sydney last year.
It forms part of the London 2012 Festival, which is the cultural programme of the Olympic Games.
In The Independent review, Paul Taylor praised the actress as "magnificent throughout". He wrote: "Blanchett proves she is as luminous and commanding a presence on stage as she is on screen."
Writing on The Arts Desk website, Aleks Sierz said the actress's performance had "an inspiring quality that is constantly surprising, often quirky and occasionally moving".
"She gives real presence to ideas about existential angst and alienation in a materialist society," Sierz added.
Blanchett recently told the BBC Radio 4 Today programme that she was "obsessed" with the play while at university, when she was in a "flawed but noble" production.
"There's a great sense of alienation in the play and that's expressed in the structure of the quite disparate scenes," she said.
"But what's been extraordinary with what Martin [Crimp, playwright and translator] has done has been to really bring out the humanity of the work."
The play will run until the end of April.