Keane overcome rows and mistakes to release Strangeland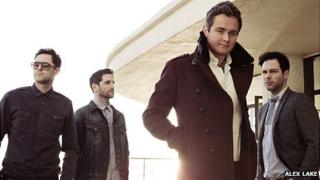 They have sold more than 10 million albums around the world. But Keane admit they are only just getting the hang of how to release albums.
Their fourth studio album, Strangeland, is out on 7 May, and singer Tom Chaplin admits they have learned from mistakes made when they released their last full album, Perfect Symmetry.
"It was a bit chaotic," he admits. In 2008 they released the single Spiralling before the rest of the album had even been mixed.
"We thought we'd chuck it out there and it did much more than we expected and we didn't have a video for it. So this time we wanted to make sure that practical side of things would be better."
Perfect Symmetry surprised many with a more upbeat 1980s dance sound. But Strangeland is a return to the more familiar territory of their debut Hopes and Fears, which went nine times platinum.
"One of our fans said, 'I love these new songs, they sound like Hopes and Fears in 3D', and I really like that," says drummer Richard Hughes.
Perfect Symmetry widened their fan base, with previous critics of the band admitting they had been won over. But Hughes says the sound of Strangeland was the natural next step for them.
"It's part of the journey we've been on. We wouldn't have made this record if we hadn't been able to make Under the Iron Sea, which was a reaction to Hopes and Fears, and then Perfect Symmetry, which was just us going bananas in a studio in Europe.
"We don't regret any of the things we've done, but we do feel like this is somehow coming back to something that we feel comes naturally to us."
Therapy
The songwriting clearly came naturally to Keane's main songwriter and keyboard player Tim Rice-Oxley. He initially wrote around 100 songs, before whittling them down to 50.
The band then jointly chose 20 to record and their 12 favourites ended up on the album, which Chaplin describes as "very reflective".
"The idea of Strangeland is the journey that we've all made and sometimes it's stranger than you think it's going to be," he explains.
"There's lots of references to things that have happened along the way. Whether it's right back at the start, dreams and aspirations, living in a small town and going somewhere… failed romances along the way.
"I like how Tim described it as - instead of looking back at those things with feelings of resentment or unhappiness, trying to show some grace about those things and trying to let go."
So was recording the album a bit like therapy for them? "Oh god yes," says Chaplin firmly.
Despite success around the world and sales of more than 10 million albums, the band has had its ups and downs.
Chaplin went into rehab in 2006 to deal with alcohol and drug problems and he admits the band were all in a "terrible place".
But that seems like a distant memory as Hughes and Chaplin chat with enthusiasm about Strangeland.
Chaplin says it was important they took as long as they needed and made sure they were all in "the right space mentally".
The album was recorded in Tim Rice-Oxley's home studio, in "a happy, unpressured environment" with breaks for games of football.
Arguments
The album was produced by Dan Grech, who has worked with The Vaccines and Radiohead, and is the first album that the band have recorded as a four-piece.
Bass player Jesse Quin, who has played with the band on and off since 2007, is now an official full-time member.
Chaplin says Quin has slotted in easily and that, when it came to the final track listing, none of the band members held back on what they thought should make the cut.
"We were having arguments about which 12 to put in," admits drummer Richard Hughes.
"Seriously, there are people that have heard songs that aren't on the record, and they're really upset that they're not on the record."
They actually wanted it to be a 10 track CD, Chaplin explains. But there were so many problems with trying to decide that it became 11, "and then the others insisted Day Will Come had to be on there".
"You see he's still insisting it shouldn't be on there," interjects a laughing Hughes.
Clearly the rows are still ongoing, albeit in good humour.
Chaplin does concede he is happy with the final tracklisting and believes it is the "best set of songs" Keane have ever released.
But while they are aiming to be more on top of things this time round, the band say they have no master plan for more success or any desire to build up Keane as a brand.
"I don't think we'll ever buy into any of that," says Hughes. "We're too quick to laugh at ourselves and the world around us."
So how would he describe being in Keane?
"It's total chaos and we just bumble along making mistakes left, right and centre, but we have a lot of fun while we're doing it."
Strangeland is released on 7 May.