London 2012: Union urges rethink over ceremonies music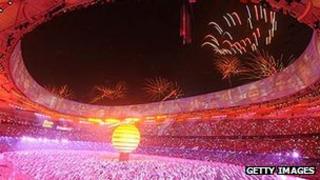 The Musicians' Union has urged London 2012 organisers to reconsider pre-recording music for the Olympic opening and closing ceremonies.
Artists will record songs before the events and sing over the tracks on stage, said a Locog spokeswoman.
The move has been criticised by the MU, which has asked ceremonies organisers to reconsider.
"It's not too late," Horace Trubridge, MU assistant general secretary, told the BBC.
"It would have a fantastic impact on the night and send out a message to everyone in the world about just how great we are live."
Locog said it is standard practice to play pre-recorded music at such a large event.
"Due to the complexities of everything involved in staging the ceremonies, it's not possible for the music to be live," said a spokeswoman.
She added that the performers did not have an issue with the plan.
"There will be live musical elements but many of the songs will be recorded in advance of the show."
In January, Olympic ceremony artistic director Danny Boyle revealed that the theme of the event on 27 July was inspired by Shakespeare's The Tempest.
Musical controversy
A row erupted during the 2008 Beijing Olympics after a girl deemed prettier mimed to vocals performed by another child.
And the MU said it was concerned that many of the artists would mime to their songs.
"We fully understand you'll have to have a lot of it recorded as a back-up if something goes wrong," said Mr Trubridge.
"But to say that there will be virtually no live music is ridiculous. A high proportion of people who come to the UK, come for the live music.
To showcase the Best of Britain without an element of live music seemed "preposterous", added Mr Trubridge.
"You only have to look at the enormous success of the festivals in this country and at the O2 Arena, and Wembley," he said.
"If you asked people if they would go if they were watching artists mime - I know what they would say."
Risk element
David Zolkwer, who has worked on major events worldwide - including the Athens 2004 Olympics and Manchester's Commonwealth Games in 2002 - said there was always an element of risk when broadcasting such high profile events.
"You're working in a high risk environment," said Mr Zolkwer. "Most of the time in-the-round, 360 degrees - which is a complex place and a tall order.
"It is primarily a technical need. There are lots of things happening simultaneously - you might have 5,000 people performing and then one artist performing live.
"That would require lots of tuning and sound checking and all of these have an impact and represent.
"What Locog will be trying to do is send out broadcast quality images and sounds. It's a television event and so it maintains the integrity of the broadcast.
He added that the stadium audience would not be going for a concert, but for the experience of an Olympic ceremony.
"It's a different kind of genre," said Mr Zolkwer, who is now director at marketing agency Jack Morton Worldwide. "Every department has creatively trained people and everyone would rather it were live, but the sheer logistics mean that it's not always possible.
"I don't think it's unreasonable for an artist to say they would rather be live. But it's about balancing that with practical realities - then maybe some of it is pre-recorded. There are compromises."
Meanwhile, the MU has also criticised Locog after it said it had been contacted by members who had received requests to play for free at ceremonies.
It has issued a notice urging performers not to accept such offers, saying it was wrong to expect them to work for no pay while staff such as security and stage crews receive their usual fees.
Locog said it stood by its commitment to the MU that it would not pay volunteers or headline acts but all other professional musicians will be paid.