Sir Derek Jacobi to make Rovers Return appearance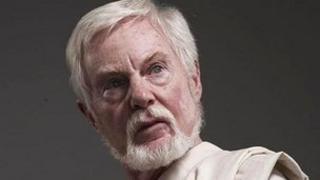 Actor Sir Derek Jacobi is set to appear as an extra in Coronation Street, it has been revealed.
The stage and screen star was on a private visit to the soap's Manchester set and was filmed at the back of a shot in the Rovers Return pub.
It is likely that viewers of the ITV1 drama will not spot Sir Derek, who is best known for his Shakespearian roles.
In a 2007 Daily Mail interview, the star confessed he had "always wanted to be in Coronation Street".
He said that he plotted with actor Bradley Walsh, who was starring in the soap at the time, to create a role in the Weatherfield saga as producers had never asked him.
"One night I had dinner with Bradley. We both got horribly drunk, I told him how much a part in the Street would mean to me, and we hatched a plot.
Sir Derek added: "So he's promised to ask if I can be written into the story as his old pal from way back."
The 73-year-old joins other famous faces who have made fleeting appearances in Coronation Street.
Sir Cliff Richard was a drinker in the Rovers in 1997, while Prince Charles made a guest appearance in 2000, playing himself in some news footage of a meeting with local councillor Audrey Roberts.
Other well-known faces have had more substantial roles in Coronation Street in recent years, including Sir Ian McKellen, Stephanie Beacham and Hollywood actor Robert Vaughn.
Sir Derek, who was knighted in 1996, is best known for his significant stage roles in Shakespearean productions including Hamlet, Much Ado About Nothing and Richard III.
He is also a familiar figure on screen, playing Emperor Claudius in a 1970s BBC drama for which he won a Bafta.
Sir Derek has also appeared in Doctor Who and Oscar-winning film The King's Speech, playing the Archbishop of Canterbury.
The actor also holds the title of knight in Denmark.