Olafur Eliasson art project rejected by Olympics bosses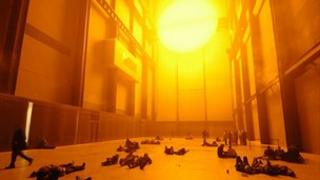 Olympics organisers have rejected an application for £1m to fund an art project intended to be the centrepiece of the London 2012 Festival.
Scandinavian artist Olafur Eliasson had been commissioned to create a piece for the event, exploring the benefits of taking a deep breath.
But the Olympic Lottery Distributor (OLD) refused the grant saying the piece no longer met its criteria.
Eliasson is now working on a new idea, to be funded from other sources.
The OLD told the BBC it had initially been approached by Locog (London Organising Committee of the Olympic and Paralympic Games) which had been working with Eliasson on an outdoor-based project, but Eliasson's proposed Take A Deep Breath failed to fulfil that brief.
The installation would have invited people to inhale and exhale on behalf of "a person, a movement or a cause" and record it on a website in a personal "breath bubble".
The OLD - which is accountable to Parliament for the use of lottery money to invest in the Olympics and Paralympics - was to have been the main funder for the project.
It has a £16.5m budget for the Cultural Olympiad - which is the artistic counterpart to the summer games.
According to the minutes of its February board meeting, the board "expressed concern that this particular commission had changed significantly since its inception".
"The Board did not find the revised proposals particularly attractive - and were aware of the possibility that the commission would be contentious."
It added the Board "struggled to justify the £1 million sought in relation to the outputs - it seemed very expensive".
A spokeswoman for the London Olympic Organising Committee confirmed to the BBC it did not intend on submitting an application to the OLD for Eliasson's new commission.
She added details of the new work would be revealed next month, ahead of the 12-week London 2012 Festival, which begins in June.
Eliasson is best known in the UK for his Weather Project at Tate Modern - a giant representation of a setting sun.