Joe Strummer anniversary to be marked with festival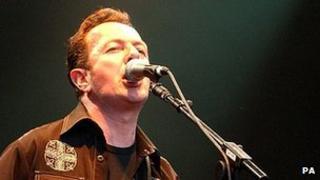 A special festival to mark the 10th anniversary of the death of Clash frontman Joe Strummer is to be held this August.
Strummer of Love will feature a line-up made up of friends of the singer.
It will be held at a secret Somerset location, only revealed to ticket holders.
Proceeds from the festival will go to Strummerville, a charity that supports aspiring musicians set up in the singer's memory.
"We felt there was only one way to mark Joe's anniversary and that was around a campfire in the fields at a festival, his favourite place to be," said Strummerville's Lucinda Garland.
"We have been truly honoured with so many brilliant bands coming out to play at this tribute and what promises to be a great benefit for the charity which will help us to continue our work."
The festival's line-up will be announced next week, with tickets going on sale this Wednesday.
Promoters said the event would handle its own sales "in the spirit of the DIY ethos that Joe Strummer stood for".
The festival will run from 17 to 19 August, concluding shortly before what would have been his 60th birthday.
Joe Strummer - real name John Graham Mellor - died in December 2002 at the age of 50.