Lloyd Webber pledges theatre cash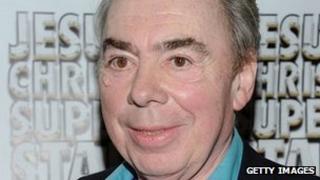 Andrew Lloyd Webber's charitable foundation will donate £125,000 which will help support refurbishment projects at local theatres.
The money is being given to the Theatres Trust to help launch its Theatres Protection Fund.
Venues that hope to improve "their physical condition, accessibility and operational viability" will be able to apply for a grant of £5,000 at a time.
The scheme is aimed at theatres run by charities and not for profit groups.
Venues can now apply for a grant from the Theatres Trust in order to address "urgent and longer term capital needs".
"Our theatres and their heritage must be cherished," said Madeleine Lloyd Webber, trustee for the foundation.
"I sincerely hope that others, especially those who have been lucky and successful in the theatre, will be encouraged to match the Foundation's funding and allow the Theatres Protection Fund to widen its support in the future."
Actress Penelope Keith, who is involved in the Theatres Trust, added: "This really is wonderful news for us.
"As well as providing advice and raising awareness of theatres in need, we will now be able to offer a lifeline to theatres that have nowhere else to go and urgently need a small injection of cash."
The cash injection is part of a donation Lord Lloyd-Webber announced last year.
The theatre mogul said he would give the £32m proceedings from the sale of a Picasso painting to arts and culture organisations across the UK.
The foundation has also recently donated £150,000 over two years to help fund the Royal Court Theatre's Studio programme to support emerging playwrights.
Earlier this week Lord Lloyd-Webber called on successful producers and writers in the industry to offer financial backing to ailing theatres.
Speaking to the Guardian, he said: "I'm thinking of people who have made a decent living that can actually give something back.
"These buildings are crumbling. We don't want them ending up as lapdancing clubs or being pulled down."