Sculptor Elizabeth Catlett dies aged 96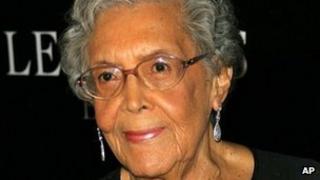 Sculptor and printmaker Elizabeth Catlett, known for her politically-charged artwork, has died aged 96.
The US artist was renowned for harnessing art to highlight better rights for black people and women.
She created large-scale sculptures of musicians Louis Armstrong and Mahalia Jackson as well as prints of Harriet Tubman and Malcolm X.
Catlett worked with wood, stone and other natural materials to produce her sculptures.
Although she depicted many high profile figures, a lot of her work consisted of ordinary people.
During the McCarthy era, which saw thousands of Americans accused of having communist sympathies, she was barred from her home country for political activism and moved to Mexico.
She often used art to express her demand for social change and would incorporate slogans such as "Black Is Beautiful" among her prints.
In the 1978 book, Art: African America, written by Samella Lewis, Catlett said: "I have always wanted my art to service black people - to reflect us, to relate to us, to stimulate us, to make us aware of our potential."
The Smithsonian American Art Museum, the Museum of Modern Art and the Metropolitan Museum of Art in New York all have pieces of her work.
Catlett is survived by three sons, 10 grandchildren and six great-grandchildren.
Her family said her remains would be cremated in a private ceremony in Mexico.