Adele confirms she will release new music in 2012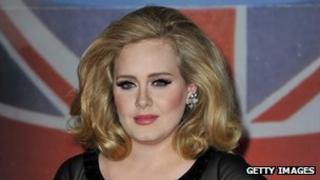 Adele has told a French radio station she will have a new single out by the end of the year, but her next album will take "a good two years" to record.
The news will fuel speculation that the artist will record the theme tune to the latest Bond movie, Skyfall.
She has been the bookmakers' favourite since last year, but no official announcement has been made.
Speaking to France's NRJ, the singer added she needed to find time to write the follow-up to her hit record, 21.
"If I didn't write my own songs, I'd be out next week with a new album," she said.
"I have to take time and live a little bit. There were a good two years between my first and second albums, so it'll be the same this time."
Adele added that she was not worried about recreating the success of 21, which has now sold more than 20 million copies around the world.
"I don't think I'll feel the pressure for the next album to be as big as the last one because I know that's not really possible," she said.
"What's happened with this album is very rare anyway."
She said her ideal duet partner would be the late Etta James but she would also like to sing with Beyonce.
"I adore Beyonce, I've been listening to her since I was about 11," she told NRJ.
"I think her work as an artist and a singer is enviable in terms of the length of her career and how she's grown and grown but most of my inspirations are (from) old music and sadly they have all died."
Adele's second 21 recently overtook Pink Floyd's The Dark Side Of The Moon in the list of best-selling UK albums.
The LP has now sold more than 4,142,000 copies in the singer's home country, making it the seventh biggest-selling album of all-time.
The singer from north London has enjoyed a stellar year with two Brit awards and six Grammy awards to her name.