Ashton Kutcher 'to star in Steve Jobs biopic'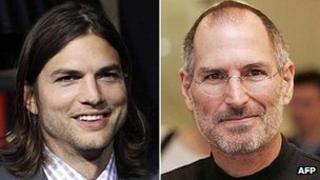 Actor Ashton Kutcher is to play Steve Jobs in a biopic about the late Apple co-founder, according to Variety.
Jobs, the former chief executive of and driving force behind the US technology giant, died last October aged 56.
Production on Jobs, the film, will begin in May and follow his progression from "wayward hippie" to "revered creative entrepreneur".
Joshua Michael Stern, best known for his 2008 film Swing Vote, will direct from a script by Matt Whiteley.
Kutcher, 34, replaced Charlie Sheen in US sitcom Two and a Half Men last year and will shoot the biopic while the show is on hiatus.
Sony Pictures are planning a separate biographical film based on Walter Isaacson's authorised Steve Jobs biography.
Kutcher's recent movie credits include the romantic comedies New Year's Eve, Valentine's Day and No Strings Attached.
Jobs was previously portrayed on screen by former ER actor Noah Wyle in the 1999 drama Pirates of Silicon Valley.