Taylor Swift wins US country music prize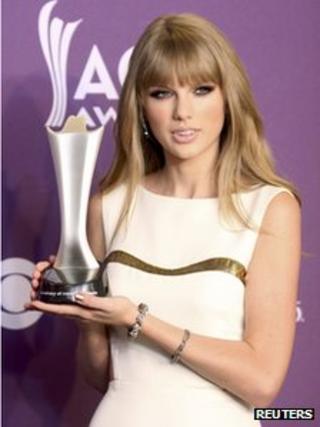 Taylor Swift has been named entertainer of the year for the second year running at the Academy of Country Music Awards.
"I'm so happy about this," she told the audience as she accepted the prize, which was voted for by fans.
"To my fellow nominees, I respect you so much and I love you. We work so hard and we try to give back," she added.
Miranda Lambert, Jason Aldean and Kelly Clarkson all won two prizes each. Lambert won female vocalist of the year and album of the year.
Lambert's husband, Blake Shelton, was named best male vocalist.
For the third consecutive year, Lady Antebellum won vocal group of the year.
Aldean and Clarkson won their awards for the duet Don't You Wanna Stay, which was named single record of the year and vocal event of the year.
It was the first ACM award for former American Idol winner Clarkson.
"Thank you all so much for welcoming me from the pop world," she told the audience.
Another American Idol winner, Scotty McCreery, was named best new artist in another award voted for by fans.
The 47th ACM awards took place at at the MGM Grand Garden Arena in Las Vegas.
Presenters included Marc Anthony, Ashton Kutcher and LeAnn Rimes.