Adam Sandler movie Jack and Jill sweeps Razzie awards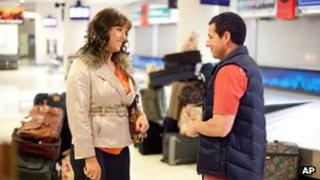 Adam Sandler's movie Jack and Jill has swept the board at the Razzie awards, which highlight the year's worst films.
The comedy picked up a record 10 prizes, including worst picture. Al Pacino, who played himself, won the worst supporting actor award.
Sandler was named worst actor and actress for playing both Jack and Jill, a brother and his twin sister.
"He didn't play triplets, but he couldn't have won more awards if he had," said Razzies founder John Wilson.
It is the first time in the 32-year history of the awards that a film has won every category.
It also picked up worst screen ensemble and worst re-make / rip-off - as the film was based on Ed Wood's Glen or Glenda.
Worst screen couple went to Sandler and either himself, Katie Holmes or Al Pacino.
Dennis Dugan had the honour of being named worst director for two movies - Jack and Jill and another Sandler vehicle, Just Go With It - while Sandler and Steve Koren won worst screenplay for the former.
Worst supporting actress was David Spade for his portrayal of Monica in Jack and Jill.
Sandler's worst actor accolade was also in honour of his performance in Just Go With It, which co-starred Jennifer Aniston.
Razzie nominees rarely turn up to claim their prizes at the spoof awards ceremony, and Sandler was no exception.
The ceremony took place on Sunday night at a magic shop in Santa Monica, California.
The Razzie winners are usually announced the day before the Oscars but this year, organisers moved the show to April Fools' Day.
However, Wilson said he had received feedback from voters of the Golden Raspberry Award Foundation, who suggested they would prefer to hand out their prizes around Oscar time.
"I think our members prefer the faux glamour of having it be Oscar eve," Wilson said.
Nominees are picked by 657 voters in 46 US states and 17 other countries.
The Razzies - officially titled the Golden Raspberries - were founded by film fan and author Wilson in 1980.
Previous winners include Kevin Costner, Halle Berry and Sandra Bullock.