Stolen art worth $1m is uncovered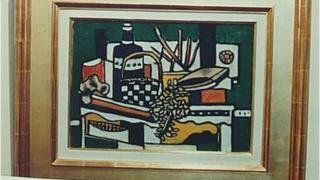 Four paintings worth $1m (£625,000) stolen from a New York gallery have been recovered in Germany 24 years on.
A total of six contemporary artworks were taken from the Soloman Gallery in 1988, with one turning up in 2003.
But the remainder of works remained hidden until they turned up in the estate of a dead German art dealer.
The dealer's daughter had attempted to get the paintings authenticated, alerting the Art Loss Register (ALR) to their whereabouts.
The ALR said there was still one painting yet to be found.
Mulberry Centre by Franz Kline was stolen along with five other works by Robert Motherwell, Karel Appel, Jean Dubuffet and Fernand Leger.
In 2003 the Appel canvas was recovered after a solicitor working for the unnamed German art dealer searched the ALR database, alerting authorities to it existence.
The dealer claimed to have unwittingly bought five of the six stolen paintings, but no financial records could be located and none of the other paintings could be located as the lawyer refused to divulge his client's name.
'Uncomfortable issues'
Four of the paintings were discovered when the daughter of the now deceased art dealer, approached New York's Dedalus Foundation to authenticate one of the artworks.
The organisation alerted the ALR, who despatched a team to identify the artworks.
ALR lawyer Christopher A Marinello said: "We're going to make life difficult for those who attempt to sell stolen art.
"You can hide behind lawyers and look for loopholes in civil law jurisdictions, but eventually you're going to have to deal with some very uncomfortable issues.
"The problem will not simply disappear with the passage of time. Leaving stolen artworks to the next generation is a losing proposition."
The paintings are now owned by the gallery's insurance company which is currently holding talks with the former gallery owners about returning the pictures to their collection.