Rupert Murdoch hits back over sabotage claims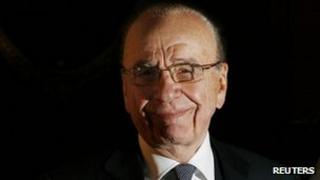 Rupert Murdoch plans to "hit back hard" following allegations that one of his companies used hacking and piracy to sabotage rival TV competitors.
A BBC Panorama documentary accused NDS - a News Corp subsidiary - of leaking information which allowed ITV Digital's services to be accessed for free.
"Seems every competitor and enemy piling on with lies and libels," Murdoch wrote on Twitter.
"So bad, easy to hit back hard, which preparing," the 81-year-old tweeted.
News Corp branded the investigation a "gross misrepresentation".
Chase Carey, News Corp's chief operating officer, issued a statement on Wednesday in which he condemned "the BBC's inaccurate claims".
"The BBC's Panorama programme was a gross misrepresentation of NDS's role as a high quality and leading provider of technology and services to the pay-TV industry," his statement said.
"Panorama presented manipulated and mischaracterised emails to produce unfair and baseless accusations.
"News Corporation is proud to have worked with NDS and to have supported them in their aggressive fight against piracy and copyright infringement."
'Legitimate'
Writing on Twitter, Rupert Murdoch took a clear swipe at the BBC, asserting "enemies many different agendas, but worst old toffs and right wingers who still want last century's status quo with their monopolies".
"Let's have it on! Choice, freedom of thought and markets, individual personal responsibility."
NDS's UK security unit was 50% funded by Sky. But the satellite broadcaster, chaired by James Murdoch, told the programme it had no involvement in how the unit was run.
Abe Peled - executive chairman of NDS, which manufactures smartcards for all News Corporations' pay-TV companies across the world, published a detailed letter to Panorama demanding that the programme retract its claims.
Mr Peled insisted the BBC had "seriously misconstrued legitimate activities".
A BBC spokeswoman said: "We stand by the Panorama investigation.
"We have received NDS's correspondence and are aware of News Corp's rejection of Panorama's revelations. However, the emails shown in the programme were not manipulated, as NDS claims, and nothing in the correspondence undermines the evidence presented in the programme."
ITV Digital was first launched as On Digital and was set up as a rival to News Corporation's Sky TV in 1998.
But the widespread availability of secret codes to reproduce the cards needed to access the service meant ITV Digital's services could be accessed for free by pirates.
The Carlton and Granada-owned company folded in 2002.