Will Ferrell to make Anchorman sequel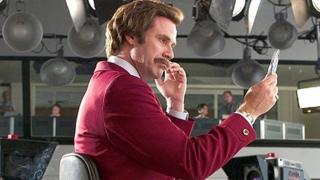 Will Ferrell is to make a follow-up to 2004 comic film Anchorman, the actor has confirmed on US television.
The movie star appeared on talk show Conan in character as 1970s San Diego newscaster Ron Burgundy to make the announcement.
Adam McKay is returning to direct, while original co-stars Paul Rudd and Steve Carell are also expected to return for next year's release.
The original movie made $91m (£57.2m) at the box office around the world.
It saw Burgundy's position as the king of the male-dominated newsroom challenged by the arrival of a new female presenter, played by Christina Applegate.
Plot details of the sequel to Anchorman: The Legend of Ron Burgundy, co-written by Ferrell and McKay, have yet to be announced.
Jazz flute performance
As part of his in-costume appearance on Wednesday night's Conan O'Brien show, Ferrell said: "I want to announce this to everyone here in the Americas, to our friends in Spain, Turkey and the UK - including England - that as of 0900 mountain time, Paramount Pictures and myself, Ronald Joseph Aaron Burgundy, have come to terms on a sequel to Anchorman."
He also gave a jazz flute performance in keeping with the outlandish character of Burgundy.
Other stars of the film, including Carell and Rudd, have seen their careers blossom in the eight years since the original movie hit cinema screens, with a series of box office hits.
In the film Carell played slow-witted weatherman Brick Tamland, while Rudd was roving reporter Brian Fantana.
The new film is expected to start production later this year.