Arts groups being hit by funding cuts, survey says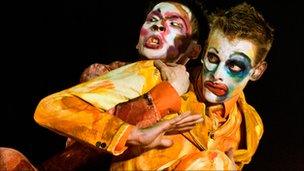 More than one in 10 arts companies who lost all of their core Arts Council of England funding have shut down or are closing, according to research.
The Stage newspaper contacted the 206 companies who lost their entire funding and found that 24 have ceased to operate or will soon do so.
A further 33 said they were at risk, 70 said they were "just" surviving, while 24 said their finances were healthy.
Alan Davey, ACE's chief executive, said it was "sad" some companies had closed.
Yet "given the difficult context" it was "heartening" that "closures of organisations that lost core funding are still in the minority", he added.
Last year's spending review saw 206 companies lose their core funding. It also saw 110 organisations receive funding for the first time.
The Stage gathered 151 responses after attempting to contact all the companies affected by the cuts.
It found 45 of the 151 had also lost funding from their local authorities.
"Of the 206 arts organisations who were told in March 2011 that they would be losing 100% core funding, one in ten has closed or is in the process of doing so," said The Stage editor Brian Attwood.
"Over the next year, these early closers will be joined by others whose determination to continue has proved to be in excess of the resources at their disposal."
In a statement sent to The Stage, Mr Davey said it was "always a difficult decision to stop funding an organisation".
But "faced with an almost 30% reduction in our budget for the arts", he continued, the Council "had some hard choices to make".
About 1,300 venues, theatres, galleries and arts groups applied for grants from the Arts Council prior to last year's shake-up.
All-male dance troupe The Featherstonehaughs and Durham City Art were among those who have confirmed they will disband as a result of the cuts.
Tate director Sir Nicholas Serota defended the Council, saying it had handled the cuts "very, very well given the challenges that they faced".
"There's been surprisingly little damage done in the short to medium term," he added.
"We'll have to see what it is in the long term but obviously it's going to be much tougher for many organisations over the next 5 years. In any event they're going to have to raise more money from the private sector."
The Tate is not funded by the Arts Council, although it receives a grant from the Department of Culture Media and Sport.
Related Internet Links
The BBC is not responsible for the content of external sites.