Jane Fonda 'to play Nancy Reagan'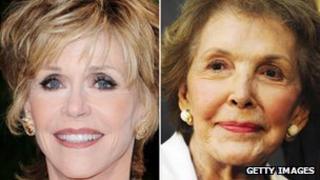 Oscar-winning actress Jane Fonda has been lined up to play Nancy Reagan in forthcoming movie, The Butler, it has been reported.
Trade newspaper Variety said the 74-year-oldis set to cameo as the wifeof US President Ronald Reagan.
The film will be based on a Washington Post article that was written about Eugene Allen, a black butler who worked in the White House for 34 years.
Forest Whitaker and David Oyelowo have also been linked to the film.
When Mr Allen began his career in 1952, segregation laws were still in place.
He began in the pantry and worked his way up, serving under eight American Presidents.
Mrs Reagan is the widow of United States President Ronald Reagan, who served from 1981 to 1989.
Known for her love of fashion, she was famously criticised in his first term for replacing the White House china, which had been paid for by private donations.
Lee Daniels, who was nominated for an Oscar for the 2009 drama Precious, will direct the project.