BBC News announces plans to close 140 posts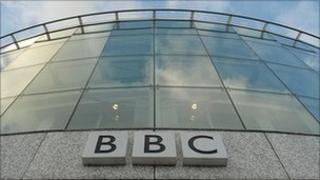 The BBC has announced 140 posts are to go by 2013 as part of the corporation's Delivering Quality First (DQF) plan.
In October, the BBC announced 2,000 posts would close over the next five years, with 500 expected to go in news.
Programmes including BBC Radio 4's Taking a Stand and Beyond Westminster face the axe.
BBC News needs to save nearly £70m by 2017. The DQF plans are still at the proposal stage and subject to consultation.
Changes to the News Channel are also proposed - head of the Newsroom, Mary Hockaday, told staff in an email: "The DQF proposals for the News Channel mean we're going to focus the budget on covering the main stories of the day and on breaking news."
They also propose having more slots covered by one presenter rather than two.
Helen Boaden, director of news, told staff that the BBC would work "extremely hard to avoid any compulsory redundancies though as the BBC gets smaller, we cannot guarantee complete success in this area."
Final decision
Michelle Stanistreet, general secretary of the National Union of Journalists (NUJ) said: "The top quality journalism we expect from the BBC is under severe threat. There will be fewer original news packages and more repeats."
Mark Thompson, the director general of the BBC, is stepping down in the autumn, following the Queen's Diamond Jubilee and the Olympics.
"The NUJ is calling on Thompson's successor to revisit this deal," added Ms Stanistreet.
Newsnight and Radio 4 will be expected to work closer together under the plans.
5 live Investigates, which was due to be discontinued in March next year, has had a possible reprieve after the BBC Trust has expressed concern about its loss. Ms Boaden said she was awaiting a final decision about this programme.
Out of the 140 posts set to go by next year, 70 are in programmes - although 11 new posts will be created - 28 are from the BBC's newsroom and the rest are based in newsgathering and political programmes.
Online services also face post closures.
The BBC Trust is expected to sign off the DQF proposals by the summer.
The proposals came about following the freezing of the BBC's licence fee until April 2017.