Q&A: ITV Digital sabotage claims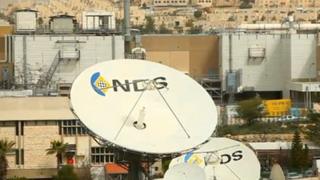 A News Corporation subsidiary company used a computer hacker to sabotage Sky TV's biggest rival at the turn of the millennium, BBC Panorama has reported.
NDS is accused of leaking information from ITV Digital (formerly On Digital) which could be used to create counterfeit smart cards, giving people free access to paid for TV.
Here is a breakdown of the claims and how Panorama obtained the evidence.
What was On Digital?
Launched in 1998, On Digital was the forerunner of Freeview, providing a mixture of free and paid-for digital TV channels to anyone with a standard TV aerial.
Its main shareholders were ITV companies Carlton and Granada.
BSkyB was part of the group that successfully bid to launch the service, but its involvement was vetoed by the Independent Television Commission.
Nonetheless, it provided several channels to On Digital, including Sky Sports and Sky One, on a subscription basis.
The company rebranded as ITV Digital in 2001, but went into administration within a year.
How was On Digital hacked?
NDS - which was owned by Rupert Murdoch's News Corporation - secretly hired German hacker Oliver Kommerling to unlock the secrets of Sky's competitors' smart cards.
Once he had uncovered the system, the codes - needed to create counterfeit smart cards - ended up online.
Panorama said NDS had also employed another hacker, called Lee Gibling, who had set up a website in the late 90s, which was known as The House of Ill-Compute, or Thoic.
Mr Gibling has claimed that he was to paid publish stolen codes online, allowing pirates to produce counterfeit smart cards.
Thoic eventually started to attract hundreds of thousands of hits a day.
What are smart cards and why are they so important?
Smart cards are credit card-sized devices that slot into the front of your set-top box.
They are used by all of the current digital TV providers - including Freeview, Sky, Virgin and several others.
A smart card is effectively a passport, which tells the box the channels you are allowed to receive.
When you pay for premium channels - such as sports and movie channels - a code is stored on the card, which means the channels are unscrambled until your subscription runs out.
If those codes are intercepted, some people might choose to stop paying for the service, as they become able to access the service for free.
What did hacking mean for users of On Digital and ITV Digital?
Providing they were prepared to break the law, anyone who collected the secret codes from Thoic could access any TV channel that On Digital provided, for free.
What did it mean for the business?
Thoic's increasing popularity meant more and more people were accessing the codes and choosing to avoid paying for On Digital service.
This was one of several problems at On Digital, which also suffered from poor reception, late delivery of set-top boxes and, crucially, an overpriced £315m contract for second-tier Football League matches.
When the company folded in 2002, it had only 1.3 million customers compared to Sky's 5.7 million.
Why has this come out now?
Mr Gibling was tracked down by the BBC and decided to give his side of the story.
He told Panorama he was paid by NDS; and claimed he was told to publish the stolen information.
Is there any evidence that NDS knew about this?
Panorama said it had seen emails that were sent between Mr Gibling and his NDS contact, Ray Adams, who at the time was head of UK security for the firm.
Mr Adams has claimed he would have arrested Mr Gibling if he had known ITV Digital's code had been published on Thoic and denied having the codes himself.
NDS's UK security unit was 50% funded by Sky. But the satellite broadcaster, chaired by James Murdoch, told the programme it had no involvement in how the unit was run and was not aware of Thoic.
Mr Murdoch was a non-executive director of NDS at the time although there is no evidence that he knew about the events reported by Panorama.
What did News Corp say?
Chase Carey, News Corp's chief operating officer, issued a statement on Wednesday in which he condemned "the BBC's inaccurate claims".
"The BBC's Panorama programme was a gross misrepresentation of NDS's role as a high quality and leading provider of technology and services to the pay-TV industry," a statement said.
"Panorama presented manipulated and mischaracterised emails to produce unfair and baseless accusations."
What happens next?
Tom Watson MP, a member of the Culture, Media and Sport Select Committee has called for media regulator Ofcom to examine these allegations.
The TV regulator is already investigating whether Mr Murdoch and News Corporation are "fit and proper" persons to be in control of BSkyB, the company that runs Sky TV, in light of the phone-hacking by journalists at the News Of The World.
Following the latest allegations, Ofcom said: "We will consider all relevant evidence as part of our ongoing duty to be satisfied that persons are fit and proper. We are not, however, going to provide a detailed running commentary on which specific pieces of evidence we may or may not be assessing."