Scarlett Johansson nude photo hacker pleads guilty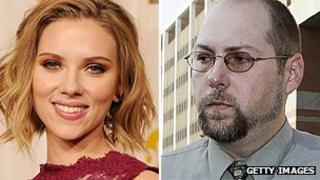 A US man has pleaded guilty to hacking into the email accounts of stars such as Scarlett Johansson and sending nude photos to celebrity websites.
Christopher Chaney, 35, from Jacksonville, Florida, admitted nine charges including unauthorised access to a computer and wiretapping.
Prosecutors said Chaney had accessed the emails of more than 50 celebrities.
He was ordered to be held in custody until sentencing on 23 July where he could face up to 60 years in prison.
Under a plea bargain, Chaney could also pay a fine of up to $2.2m (£1.65m) and must pay restitution to his victims, ranging from $15,000 (£11,000) to $400,000 (£300,000).
Chaney, who initially pleaded not guilty to the charges, was arrested in October 2011 as part of a year-long FBI investigation of celebrity hacking that authorities dubbed "Operation Hackerazzi".
Other victims included Friends With Benefits star Mila Kunis, singer Christina Aguilera and High School Musical actress Vanessa Hudgens.
Chaney admitted he hacked into the personal emails of his targets by clicking on the "forgot password" feature of their accounts and answering security questions by using publicly available information about celebrities that he found on the internet.
'Justice will prevail'
Once in control of the accounts, he obtained private photos, business contracts, scripts, and other documents.
He also went through contacts lists to find other victims and sometimes posed as friends to request more private photos.
Chaney then forwarded many of the images he found, including nude photos of Johansson, to gossip websites which posted them online.
Johansson told Vanity Fair in December that the photos were meant for her ex-husband Ryan Reynolds.
"I have confidence that justice will prevail and that the court will set a precedent for a 'no tolerance policy' in regards to identity theft, computer hacking and invasion of privacy," the actress said in a statement to the Associated Press.
Prosecuting lawyer Andre Birotte said: "Today's guilty pleas shine a bright light on the dark underworld of computer hacking.
"This case demonstrates that everyone, even public figures, should take precautions to shield their personal information from the hackers that inhabit that dark underworld."