Titanic: Underwhelming reviews for television drama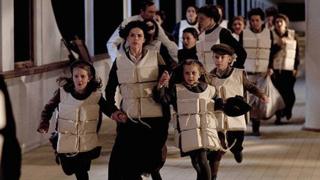 Julian Fellowes' Titanic drama has received largely lukewarm reviews from critics after Sunday's first episode aired on ITV1.
Writing in the Daily Telegraph,Sarah Crompton said: "There was both too much and too little to concentrate on, and no-one to care about.
"If I were forced to judge Titanic on this one episode alone, I'd call it a damp squib," she continued.
The four-part drama coincides with the centenary of the liner's sinking.
Ms Crompton added: "But having seen part two, I can assure you it gets better."
It stars Linus Roache, Celia Imrie, Geraldine Somerville, Toby Jones and the newly announced Doctor Who companion, Jenna-Louise Coleman.
'Over-hyped'
The mini-series has been generating huge interest following the success of Fellowes' Downton Abbey on both sides of the Atlantic.
And it attracted a strong audience, beating the final episode of 1930s drama Upstairs Downstairs on BBC One, which aired at the same time.
Upstairs Downstairs had an average audience of 4.4 million, while Titanic's average was 7.4 million, according to overnight figures.
Times critic Andrew Billen said that he struggled with the speed of the opening episode.
"The real design fault is Fellowes: by introducing disaster every 30 minutes into each of Titanic's four episodes, even his economy of quill struggles to involve us in his characters, let alone to persuade us to like them.
"Some will live, some will drown. So far, they'll none of 'em be missed."
The Guardian's Vicky Frost alsoquestioned the structure of the episodes.
"In an innovative, but not entirely successful move, viewers will watch the boat begin to sink at the end of each episode, as Fellowes retells the story from different characters' viewpoints.
"The effect is sometimes confusing, with multiple story arcs over-lapping," she wrote.
The Independent's Tom Sutcliffe wasreserving judgement.
"'First I will change into something more gentlemanly,' declares Benjamin Guggenheim calmly, as the saloon starts to tilt, 'then we will wait upon events.'
"A fine moment, but as any Titanorak will know, life supplied that scene, not Mr Fellowes. We still have to see whether he can invent anything as good."
The Daily Express was less forgiving, with Matt Bayliss calling his review Class War Hits the Rocks.
"The problem with this four-part series, if I dare be rude about such a costly and over-hyped creation, is that it isn't quite a disaster movie nor quite a drama either.