Reality show clash proves ratings hit for BBC and ITV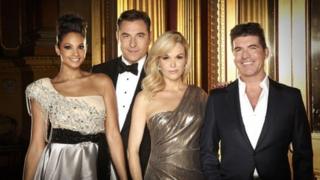 The Voice and Britain's Got Talent both proved to be ratings winners for the BBC and ITV when they were shown in opposition on Saturday night.
ITV had the most viewers, with a peak audience of 11.5 million watching Simon Cowell return to Britain's Got Talent.
On the BBC, new reality series The Voice, which features Tom Jones and Jessie J amongst its judges, had a peak audience of 9.8 million.
But BBC One came out on top during the two shows' 20-minute overlap.
Between 8:00 and 8:20pm, The Voice was seen by 8.96 million viewers, compared to the 6.56 million watching Britain's Got Talent.
Over the last five-minute period of the overlap, those figures were 9.1 million for The Voice and 6.1 million for Britain's Got Talent.
TV bosses had feared the crossover would last as long as 50 minutes, and the scheduling had been a source of tension since it emerged both channels were launching their shows on the same night.
The tension spilled over into the press, where judges for both series took the opportunity to criticise their rivals.
Tom Jones took a dig at Britain's Got Talent,telling Hello magazine: "The Voice is fresh - it's not about someone coming on stage looking funny or trying to tap dance."
Simon Cowell later accused the BBC of "silly rivalry".
"When a show overlaps, it is one network trying to outdo the other one,"he told Radio 1. "If they decide they want to compete against us then bring it on."
Speaking before the overnight viewing figures were released, BBC One controller Danny Cohen said he would not be judging The Voice's success by comparing it to Britain's Got Talent.
He said he would judge The Voice on its own merits.
"I'm conscious that Strictly launched with 4.9 million viewers, The X Factor five million and Britain's Got Talent around the same," he told Broadcast magazine. "I'm not going to put a number on what we see as success for The Voice."
In the end, The Voice's average audience of 8.4 million viewers was more than three million higher than those shows, said a BBC spokesman on Sunday morning.
The show kicked off with judges Jessie J, Tom Jones, Will.i.am and Danny O'Donoghue performing the Black Eyed Peas' hit I Gotta Feeling, before taking their seats facing away from the stage.
Over the course of the show, they listened to auditions without being able to see the contestants. If they liked what they heard, they pressed a buzzer and their chair spun round.
The first to audition was 17-year-old Jessica Hammond from Belfast, who performed Jessie J's single Price Tag.
All four judges hit their buttons to show they wanted her for their team but she chose to go with her musical hero, Jessie J.
On ITV 1, Britain's Got Talent opened with a high-production musical number, as hosts Ant and Dec mimed to Queen's Don't Stop Me Now while cheerleaders, acrobats and jugglers danced around them.
The sequence travelled from a row of terraced houses to Trafalgar Square, where the two presenters talked up the show's new £500,000 prize.
Of the contestants, it was the final pairing, Charlotte and Jonathan, who left the biggest impression. The teenage students had been advised to audition together by their singing teacher, despite having very different styles.
New judge Alesha Dixon said: "It's not very often that that happens, that you can move an audience like that - you sing beautifully together. It was world class."
David Walliams, also a new addition to the line-up, added: "A pop voice and an opera voice together, it was incredible."
Jonathan, who said he had been bullied over his weight as a child, has already been dubbed the "new Susan Boyle" by some newspapers.
The show's peak audience of 11.5 million eclipsed that of last year's opening episode, which was seen by 10.9 million viewers.
Reaction to both shows on Twitter was generally positive.
Former England cricketerFreddie Flintoff wrote: "Really enjoyed The Voice, great choice of judges and talented contestants without the usually mockery."
Meanwhile,Joan Collins had high praisefor Britain's Got Talent, asking if Simon Cowell and David Walliams were the new Morecambe & Wise.