Disney's Oswald the Lucky Rabbit drawing dusted off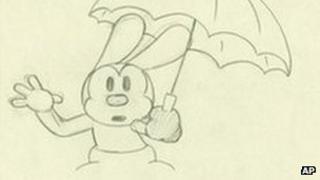 A drawing of one Mickey Mouse's predecessor's has been unveiled, after spending 40 years in Disney's archives.
Oswald the Lucky Rabbit was co-created by Disney, but he was lost to Universal in a contract dispute in 1928 - before being given back in 2006.
The image has been brought out to promote a computer game, Disney Epic Mickey 2, in which Oswald features.
Most of the early drafts of Oswald have been destroyed.
But this one was uncovered in the 1970s and been kept in the Disney archive.
The rights to Oswald were returned to Disney, as part of a deal which saw sports presenter Al Michaels move to NBC Universal.
"We've always known about the character and loved him and wished that we could do things with him, but he wasn't a character that belonged to us," said Walt Disney Company archive director, Becky Cline.
The image on display is from the 1928 short film Sky Scrappers, in which Oswald is nearly squashed by falling bricks.