Reality theatre from Alecky Blythe throws out script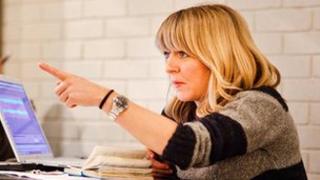 When actors appear in a play by Alecky Blythe, there is no script to learn.
Instead, they must wear an earpiece through which they hear voices.
They are the voices of real people, from interviews conducted by Blythe, and the actors must imitate them as precisely as possible - down to every last "um" and "er".
Blythe is at the forefront of this radical method of portraying real events on stage and has just had a hit with London Road, about the community in Ipswich where five prostitutes were murdered in 2006.
That show was a musical and is returning to the National Theatre in London this summer.
Blythe's follow-up, a play about contestants in a talent show in Stoke, opens at the New Vic Theatre in Newcastle-under-Lyme on Saturday.
She says her method requires a lot of concentration, but actors are used to concentrating on other things - "character, needs, objectives, motivation, whatever".
"Initially I just have to say: 'Forget all of that,'" she says.
"And the older, more experienced actors find it more difficult to let things go because that's what they've learned and it works and they've built a career on that."
But cast members are usually won over to her way of working, she says.
"They start seeing each other doing it and see, when they are faithful to it, how joyous it is to watch and how authentic and spontaneous the acting becomes."
It is a style Blythe has been refining since 2003's Come Out Eli, based on interviews with those involved in a siege in Hackney, London, including the hostage.
Since then, she has put the stories of migrant strawberry-pickers, septuagenarian singletons, Georgian refugees and Wimbledon tennis fans on the stage.
The new play, titled Where Have I Been All My Life?, taps into the hopes and dreams of competitors in Stoke's Top Talent 2010 - from teenage starlets to retired miners.
"The performance is almost secondary, it's more about their home lives and the dressing rooms and what leads up to that performance. It's what's led them to that and where that might then lead them," Blythe says.
"It feels particularly pertinent to Stoke because of its lack of industry and work."
The story of people pinning their hopes on quick and easy fame and fortune is likely to ring true elsewhere.
"I suppose there are other towns that I'm sure it would very much resonate with, ones that have had a similar economic history and downturn," Blythe says.
London Road earned widespread acclaim from critics, but was denounced by some as insensitive when it was announced.
Blythe did not deliberately avoid tackling a similar news event this time, she says.
"If something had kicked off in Stoke, I would have been here. But that doesn't always happen. So then you've got to start looking for more constructed events."
Blythe is often referred to as a playwright - in fact, she writes nothing. She gathers interviews before starting to "cut and paste and manipulate" them to fit onto the stage.
By manipulate, she insists she does not change the meaning of what people tell her. She may, however, compress and combine them, cutting bits out or rearranging them to make the story flow.
"Sometimes because of the messy way we speak and we go off on tangents… by being able to cut out some of those meanderings you get a much clearer answer," she says.
She is in regular touch with her interviewees and will call them if she does anything "that maybe is a bit of a stretch of the truth".
"It's got to be a positive experience for them because I don't think it's worth doing it if it's going to be traumatic," she says.
The one-to-one interviews give the stories an intimacy, Blythe believes.
"When that relationship is taken and put in a theatre, rather than one person talking to one person, they're sharing it, still with that level of intimacy and almost confessional delivery," she continues.
"The words take on more weight and they're lifted by the shared experience and become more powerful."
In rehearsals, the cast in Newcastle-under-Lyme got to grips with her technique by playing clips again and again to decipher the interviewees' words and to refine their impersonations.
'Peculiar' experience
One cast member, Andrew Pollard, confirms that it is "completely different" way of working.
Actors are used to putting their stamp on a character, he says. They may well embellish a line to get a bigger laugh. But that is banned here.
"Our job is to be as faithful as we can to the people we're trying to portray," says Pollard, who plays Graeme, a charity shop worker with big dreams. "We're just a conduit for the real people."
The experience is "quite peculiar", he says, but adds that there is "something magical about it because you go into a world - because you can't hear anything else - so you do inhabit that person quite fully".
Blythe's success has been part of a wider rise in "verbatim" theatre, with docu-dramas staged using testimony from events ranging from the Srebrenica UN war crimes hearings to the English summer riots.
This may be down to a greater thirst for stories that ring true, Blythe thinks.
"When you turn on the telly, there seem to be less and less dramas and more and more documentaries," she says.
"I don't know whether it's just a slight shift of focus away from the made-up. It's almost like, how more authentic and truthful can we get in a reaction to the more constructed and theatrical?
"It's maybe not a coincidence that it grows at the same time that reality TV does."
Stories on stage and screen have always reflected our own lives back to us. Now, the mirror image is slightly sharper.