Italian screenwriter Tonino Guerra dies aged 92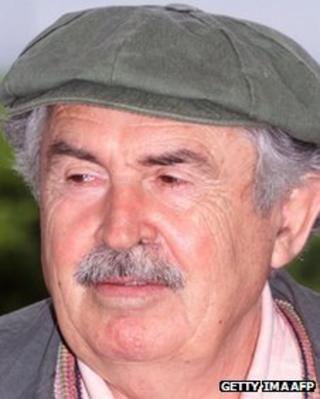 Italian screenwriter Tonino Guerra, best known for his long-standing collaboration with director Michelangelo Antonioni, has died.
Guerra, who scripted more than 100 screenplays, was nominated for three Oscars for his work on Antonioni's Blow Up, Fellini's Amarcord and Casanova 70.
"Tonino... lived through practically a whole century of Italian culture.
"We have lost a poet, a genius and marvellous person," said former culture minister Walter Veltroni.
Born in 1920, Guerra, who was also a poet and a sculptor, began to write during World War II, when he was imprisoned in a concentration camp in Germany.
He went on to co-author some of the defining Italian films of the 1960s and 70s, working with a host of legendary directors including Federico Fellini, Vittorio De Sica and Luchino Visconti.
His prolific career spanned some four decades, and later saw him working with contemporary Italian filmmakers such as the Taviani brothers and Cinema Paradiso's Giuseppe Tornatore.
Tornatore's Stanno Tutti Bene, on which Guerra collaborated, was remade in 2009 as Everybody's Fine - with Robert De Niro and Drew Barrymore.
Fertile imagination
"Tonino had a unique gift for creating images; he was not a technical screenwriter," director Marco Bellocchio, who worked with Guerra on Henry IV in 1984, told trade paper Variety.
"Instead, he was a real artist with a fertile imagination and a genius for storytelling that is becoming ever more rare in the film world these days."
Guerra also worked with foreign filmmakers including Steven Soderbergh and the Greek director, Theo Angelopolis, winning a prize at the Cannes Film Festival for the 1984 screenplay Voyage To Cythera.
He was honoured with a lifetime achievement award at the Venice Film Festival in 1994.