Budget 2012: Tax breaks for TV production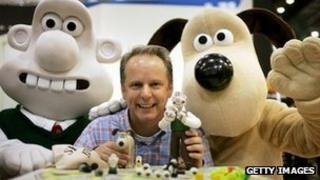 A tax credit scheme for TV production and animation firms is to be introduced, in a bid to keep creative talent in Britain.
Chancellor George Osborne announced the plans in Parliament as part of the new Budget for 2012.
Mr Osborne said it was the government's "determined policy" to keep Wallace and Gromit animators Aardman in Britain.
Last month, Aardman bosses admitted they had been considering moving production abroad where it was cheaper.
In reaction to the news, Aardman said the tax credit would be "transformational for our industry".
"We have seen a dramatic decline on UK television of home produced animation and we now have a shot at reversing that trend," said Miles Bullough, head of broadcast and development.
"The credit will create thousands of UK jobs and our research shows that there will be a long term financial gain the for the UK."
'Top international investors'
Lobby group Animation UK had been urging Mr Osborne to considerintroducing tax breaks, as it believed production was at risk of disappearing from the UK completely.
Mr Osborne said he hoped the changes would prevent that from happening, not just for animators but for high-end drama productions.
"Not only will this help stop premium British TV programmes like Birdsong being made abroad, it will also attract top international investors like Disney and HBO to make more of their premium shows in the UK," he told MPs.
"It will support our brilliant video games and animation industries too.
"Because, Mr Deputy Speaker, it is the determined policy of this Government to keep Wallace and Gromit exactly where they are."
Recent shows, such as The Tudors, Camelot and the Julian Fellowes' drama Titanic, were all made abroad to take advantage of tax incentives in other countries.
Animation UK said it was "thrilled" by the announcement, saying it was "the news we have been waiting for".
"Overseas animators have long received support from their governments and hopefully now our industry will be able to compete on a level playing field," chairman Oli Hyatt said.
"It would have been a crime for it to disappear from the UK and that was a very real threat. Today's announcement will hopefully guarantee the long term survival of our industry and ensure it continues to be an industry we are proud of."
Key members of the TV production industry have also welcomed the news.
Kudos Film and TV, which makes shows including The Hour, Law and Order and Spooks called it "fantastic news".
Its chairman, Stephen Garrett, added: "The return on this relatively small investment from the Government will significantly benefit the UK's economy, generating jobs and growth, boosting tourism and giving the UK taxpayer great value for money."
'Affordable location'
Left Bank, whose shows include Wallander and DCI Banks, also welcomed the proposals.
Chief executive Andy Harries said: "The proposed changes in the UK tax laws regarding television would give the British TV industry a much needed shot in the arm.
"British production talent is responsible for some of the best television in the world and at the moment many productions, which could very easily be shot in the UK, are being made abroad and many talented creatives are moving elsewhere."
HBO's Glenn Whitehead added: "Today's news on a new tax incentive has turned the UK from one of the most expensive options into a competitive and affordable location.
"We would therefore love to bring more production to the UK."
The British Film Commission's chief executive Adrian Wootton said: "This has fantastic implications for the UK's production industries and the UK economy."
He added that the introduction of tax breaks in production would "create jobs" and "more investment in the UK".
A BBC spokesperson said: "We welcome the government's desire to support the production industry in the UK and we are keen to shoot more BBC projects on our shores.
"We look forward to engaging with the detailed proposals and how they might be implemented to best effect for the industry as a whole."
In 2009, exports of children's TV programmes that were made in the UK were worth £150m, according to the Department of Culture Media and Sport.
And the UK is the second biggest exporter of television content in the world, with exports worth more than £1.3 billion per year.
Mr Osborne's tax break proposals will be subject to state aid approval and a consultation process, but could be introduced by April 2013.
The chancellor also said there were plans to improve technology in Britain, which will include delivering "super fast broadband" to 90% of the population across 10 of the country's leading cities.