Mad Men creator amends musical error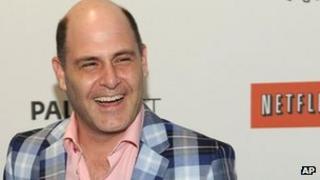 Mad Men creator Matthew Weiner has changed the music he originally selected for an episode after complaints it was anachronistic.
The writer chose Dusty Springfield's 1967 tune The Look of Love to accompany the closing credits of series five's opener.
But reviewers pointed out the track was not released until six months after the episode was set.
Weiner said that he is now using a song "more suited to the time period".
The name of the replacement track has not been released.
Weiner thanked the press for their attention to detail in a letter.
"Although we take license for artistic purposes with the end-title music, we never want the source music to break from the time period we are trying to recreate," he said.
"As someone who has a deep appreciation for details, I want to thank you for bringing this to our attention."
Set in the 1960s, the US show is based around a fictional New York advertising agency.
Mad Men has received critical acclaim, particularly for its historical authenticity.
Since its inception in 2007, it has scooped 15 Emmys and four Golden Globes.
Jon Hamm, Elizabeth Moss and Christina Hendricks star in the series, which is also broadcast on Sky Atlantic in the UK.