London Book Fair: Row over China delegates
By Ray Furlong
BBC News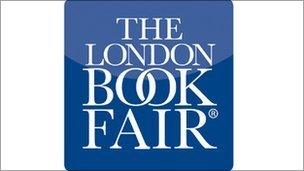 A leading Chinese dissident has criticised the London Book Fair (LBF) for inviting only writers approved by Chinese communist authorities.
This year's LBF has a special focus on China, saying it aims "to showcase the very best of Chinese literature today".
But exiled writer Bei Ling, head of the Independent Chinese Pen club, told the BBC he is "shocked" by the line-up.
"It doesn't include any independent voice, they are cleaning us away," he said.
Bei Ling has now written to the LBF demanding it reconsider.
In his letter, he said: "Works by independent and exiled Chinese authors are just as much a part of the current Chinese literary scene as the state-approving ones."
He suggested the event invited Nobel laureate Gao Xingjian, now in exile in Paris; or Liao Yiwu, who left China in July last year and now resides in Berlin.
In a statement, Alistair Burtenshaw, director of the fair, said: "We appreciate Bei Ling getting in touch. We chose to engage with China and we are hugely excited with the wide-ranging professional and cultural programme that will be presented."
He added that 180 publishers were coming from China alongside 21 Chinese authors, in partnership with the British Council.
The original press release for this year's fair said the line-up would include a selection of writers aiming "to showcase the very best of Chinese literature today, representing the diversity of Chinese writing in all genres and inclusion of both established names and new writers."
But Bei Ling's countered in his letter: "Also shocking is the London Book Fair's cooperation with the GAPP - the very ministry that's responsible for censorship."
The GAPP is the General Administration of Press and Publications in China, which regulates all print media in the country.
Its chief, Liu Binjie, will be appearing alongside UK culture minister Ed Vaizey during the book fair, which runs from April 16-18 at Earl's Court.
Other delegates include Bi Feiyu, the Chinese author whose novel Three Sisters won the Man Asian Literary Prize in 2010.
There is a precedent for the controversy. In 2009 the Frankfurt Book Fair had a special focus on China. Bei Ling and the investigative journalist Dai Qing were struck from the list of participants at Chinese insistence.
In the subsequent furore, they were reinstated - prompting an official Chinese delegation to walk out of an event.
The English Pen club - which aims to promote literature and freedom of expression - has downgraded links with this year's London fair as a result of the line-up.
Pen's assistant director, Sarah Hesketh, told the BBC it would normally play host to some of the official delegates in its area of the fair.
But this year they are only hosting one of those authors, Bi Feiyu, and instead inviting others not in the official delegation - such as Jung Chang, author of Wild Swans.
"Because of our work in China we didn't want to host writers who have been selected as part of the official delegation, that we weren't comfortable with," Hesketh said.
"We didn't want to endorse that official list of writers at the expense of writers who have not been invited."
Related Internet Links
The BBC is not responsible for the content of external sites.