David Mitchell and Victoria Coren announce engagement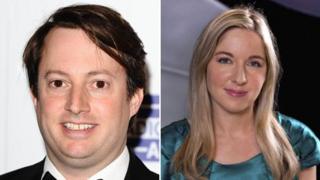 Peep show star David Mitchell and TV presenter Victoria Coren have announced their engagement in The Times.
The couple appeared together in 2010 on BBC quiz show The Bubble. Coren thanked fans for their congratulations on Twitter, saying: "I'm very happy."
Mitchell also reacted on Twitter: "Having received so many lovely messages today, I'm finally coming round to the internet.
"Thank you all. I'm incredibly happy," he added.
The notice in Monday's Times referred to "Mr D.J.S. Mitchell and Miss V.E. Coren" in the forthcoming marriages section.
Mitchell, 37, previously admitted he found the business of dating "incredibly awkward", having been single for several years.
In an interview with the Daily Record newspaper in 2008, Mitchell said: "I'd like to see myself as a free agency bachelor playing the field.
"But unfortunately it would not be a fair reflection of my lifestyle."
The couple began seeing each other towards the end of last year.
Coren, 38, is the daughter of Alan Coren, the late television personality and writer.
Her brother Giles is a food critic and a TV host, best known for co-presenting series including Edwardian Supersize Me with Sue Perkins.
She is best known for hosting the BBC Four television quiz show Only Connect but is also a writer and plays poker as a member of PokerStars Team Pro UK.
Mitchell's work includes various panel shows, sketch show That Mitchell and Webb Look and 10 O'Clock Live.