George Michael announces rescheduled tour dates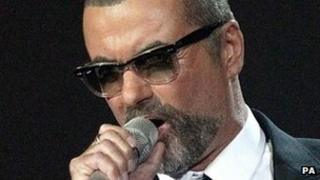 Singer George Michael has announced rescheduled dates for his tour which he was forced to postpone last year due to ill health.
The Symphonica tour will resume on 4 September in Vienna, a newly-added date in the city where the star was treated in hospital.
Michael is donating 1,000 tickets for that concert to the medical staff who looked after him.
The 48-year-old will also play a series of dates across the UK.
Michael will perform at London's Royal Albert Hall, a concert which he was forced to shelve in May due to illness.
The star, who is now fully recovered from pneumonia, said: "I would like to take this opportunity to say thank you first to the doctors and nurses who saved my life and took such great care of me and to all my fans, family and friends for their love and support.
"I'm looking forward to seeing everyone."
Concert promoters have confirmed original tickets bought for any of the postponed gigs will be valid for the rescheduled dates.
The musician was taken ill in November, just hours before he was due to perform in the Austrian capital.
He had already completed 46 of the original 65 dates of his tour, but announced in January he planned to reschedule the remaining gigs at a later date.