Labrinth: 'Music comes from the universe'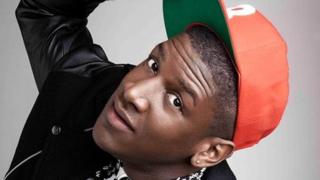 After producing Tinie Tempah's breakthrough singles Pass Out and Frisky, Labrinth has stepped into the limelight in his own right. He tells the BBC that the transition from the studio to the stage wasn't an easy one.
He could have been called Dappa D, or The Candleman, but Labrinth finally settled on his stage name when flipping through the pages of a dictionary.
"I actually tried to learn the dictionary at one point," he says.
"It didn't work, I only got through the first few pages. So it's a wonder I'm not called Abacus!"
The 22-year-old is chilling out over a glass of red wine in the north London restaurant he co-owns.
Disarmingly dressed in a stripy cardigan, he is supposed to be recuperating after last night's concert in Lancaster.
Instead, he drove back to London, arrived home at 5:00am and watched a DVD.
Now, he's bounding around the restaurant, fetching drinks from behind the bar and recommending dishes from the menu (the "heart attack burger" has fuelled countless recording sessions in his studio a few floors above).
Most of all, however, he wants to talk about music.
"I know this sounds weird," he says, "but I honestly believe music comes from the universe.
"Inspiration comes from the universe and you drag it into your mind."
It may sound like mystical nonsense but it seems to be working for him. Labrinth's first two solo singles went straight into the top five, and he's found himself one of the urban scene's most in-demand producers.
So where did this studio wizard in chunky knitwear come from?
Gospel background
Born Timothy McKenzie in Hackney, Labrinth was surrounded by music from the very beginning.
At church, he played piano in the worship band. At home, his family fought for control of the stereo - cueing up everything from Wu Tang Clan to the Backstreet Boys, always punctuated by his mother's gospel records.
"And gospel is very interlinked in terms of country, blues, jazz," he notes. "So it drew us towards those sounds as well."
Almost inevitably, the family started making their own music - Labrinth on a Casio keyboard, his brother on drums, and his sister on vocals.
They could have been the Jacksons, save for one crucial detail: There was no-one with Joseph Jackson's experience to steer them through the industry.
On more than one occasion, the McKenzies were exploited and let down by "friends" who claimed they could help.
"These people came to my house and thought, 'this looks like money'," says Labrinth.
"My mum couldn't tell whether they were telling us something absolutely bogus. So she decided to go to a college class."
It was there that she met Marc Williams, dance music producer and former member of Funki Dredd and Project One.
"She thought he seemed like family," Labrinth says, and it wasn't long before Williams had taken the teenage musician under his wing.
"I remember his hunger," says Williams of their first meeting.
"I mean, his beats were good. He had a very good groove factor. But what it really was was that desperation to be in the studio."
Williams signed on as Labrinth's manager and set him loose in his home studio. More importantly, he started schooling him in musical history and practice.
"I came from the rave generation - one finger chords and stuff," he explains. "All the things I didn't do, I made sure to instil in him."
'Compilation era'
Labrinth's eclectic musical taste can be sampled in his restaurant - where the playlist swings from The Beatles to James Brown via Crowded House.
But it's even more apparent on his album. The opening track, Climb On Board, is a manic excursion across the genres - incorporating soul, drum and bass, trance, soul, R&B and even a jazz interlude.
It's almost as if Labrinth's thrown his CD collection down the stairs and recorded the results.
"Everything's been done before, so why not mash it all together?" he asks, matter-of-factly.
"We live in a compilation era. If we like a song, we buy it. I love that idea of being able to do jazz and soul next to dubstep and house. I think that would be sick."
Genre-splicing styles is now Labrinth's calling card, but it doesn't always meet with approval.
"It's been a struggle," says Williams. "Even now, we've got a track we want to put out that has a Motown-esque ending. The label said we'd have to chop it off but I won't have it chopped. Lab knows what he's doing."
But probe a bit further, and you discover that Labrinth also had doubts about the scattershot approach.
"I wanted to be everything, and I didn't know if that was right," he confesses.
"I love pop, I love R&B, I love jazz. But to make pop doesn't make sense if you're in the urban scene. It's like going against the tribe."
"I never called myself an urban artist but that's what I was classed as, and I almost tried to live up to the name instead of who I really was."
On stage, too, he was uncertain of how to present himself.
"I did loads of shows where I failed," he says. "I looked at Tinie Tempah, I looked at Ed Sheeran and they were so fluent in their performance, I thought I needed to copy that.
"But I got over pretending. I just couldn't do it."
Cowell connection
To see the musician on stage now, you would be hard pressed to imagine him suffering a lack of confidence. He runs back and forth like a frisky puppy, whipping the crowd into a strobe-lit frenzy, before strapping on a guitar to strum his way through a short acoustic medley.
He's more comfortable as a singer-songwriter too, thanks in part to the unlikely support of X Factor mogul Simon Cowell, who signed him to his Syco label in 2010.
"He's more excited about the album than I am," says the rapper - although he concedes that, in the beginning, Cowell had low ambitions.
"To be honest, I think Syco and Simon Cowell saw another Taio Cruz," he says. "They thought I'd make loads of the same records and it would be an easy run."
If you're getting the impression that Labrinth could talk about music for days on end, you are not wrong.
Try to steer him onto more personal topics, however, and he's more cagey.
One of the more revealing songs on his album is the power pop ballad Treatment, which is addressed to a former lover.
"You don't understand the damage you've done," Labrinth sings over a melodramatic guitar track. "Isn't it clear that I need treatment?"
Was it based on a real-life experience?
"Yeah, I loved this girl to death," he acknowledges briefly, before the conversation gravitates back to the writing process.
Labrinth admits he used to be "obsessed with being a perfectionist".
"It spoiled some of it," he says. "You get so close to your own music that you can't see the beauty in it."
"I had to learn to let go. It's good to be less precious."
Labrinth's album Electronic Earth is released on Syco on 2 April.