21 Jump St remake tops US box office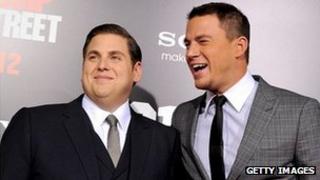 A big screen version of 1980s TV show 21 Jump Street has come top of the North American box office chart in its first weekend of release.
The original teen drama launched the career of Johnny Depp, who has a cameo in the remake.
But the movie version has turned the story of undercover police tackling youth crime into an action comedy.
It took $35m (£22m) at US and Canadian box offices between Friday and Sunday, according to studio estimates.
Rory Bruer, head of distribution for film studio Sony, said the remake, starring Jonah Hill and Channing Tatum, had been adapted to appeal to young cinemagoers.
"I just think you had to make it relevant, and action comedy was the way to go," he said. "And they did make it very relevant to a young audience."
3D animation The Lorax, based on the Dr Seuss book of the same name, fell to second place with $22.8m (£14.4m) after two weeks at number one.
Sci-fi epic John Carter was in third place with $13.5m (£8.5m). The blockbuster reportedly cost $250m (£158m) to make and its total worldwide takings now stand at $179m (£113m).